AU yeah! Gold surges more than 2% hitting 7-year highs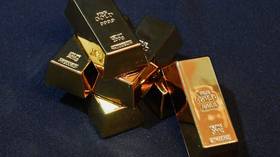 Investors are rushing to buy the safe haven yellow metal after rising fears over the spread of the coronavirus epidemic triggered panic sell-offs on Asian and European markets.
The price of gold surged more than two percent on Monday, hitting record levels since February 2013. Gold for April delivery on Comex reached $1,691.7 per troy ounce before slightly falling back later in the session. Meanwhile, spot gold was also up around 2.5 percent.
Silver prices also posted gains on Monday, with contracts for March rising 1.7 percent to $18.84 per ounce.
Earlier on Monday, key Asian indices suffered heavy losses, with South Korea's benchmark Kospi hitting the lowest point in two months, Hong Kong's Hang Seng losing 1.75 percent, and China's Shanghai Composite falling 0.28 percent. Japan's markets were closed for a public holiday on Monday.
Worries over the coronavirus outbreak also pushed European stocks down, with the pan-European STOXX 600 down 3.7 percent, reaching the lowest since the end of January. Both German and French key indices were down nearly 3.8 percent as of 11:33 GMT, while the FTSE 100 Index lost around 3.5 percent.
On Sunday, Chinese President Xi Jinping warned that the deadly new virus will definitely have "a considerable impact on the economy and society." However, he noted that the effect will be temporary, urging businesses to resume work. Many factories in China have been shut down since the end of the Chinese New Year holidays, taking a toll on both domestic and foreign producers as well as the global supply chain.
The new coronavirus has infected more than 79,000 people and led to 2,620 deaths. While the number of cases has dropped in some Chinese provinces, allowing them to ease restrictions, the number of infections spiked in other countries over the weekend. In an effort to battle the viral outbreak, South Korea went to its highest alert level for infectious diseases, while Italy had to cancel its famous Venice Carnival and some soccer matches.
For more stories on economy & finance visit RT's business section