Russia & China to ink deal for construction of two nuclear reactors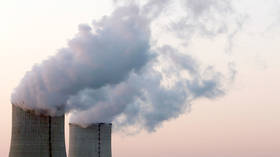 A contract for the development of two new units at China's Xudabao nuclear power plant will soon be signed by Moscow and Beijing. It is part of the biggest nuclear energy deal between the two countries in a decade.
Under the deal, two Russian VVER-1200 units worth a total of $1.7 billion will be built by China National Nuclear Corporation (CNNC) and Russia's State Atomic Energy Corporation (Rosatom).
Also on rt.com
Russia & China sign agreement on construction of 2 power units at Tianwan nuclear power plant
Construction of Unit 3 of the Xudabao nuclear power plant is expected to start in October 2021, according to CNNC. It will be followed by Unit 4 in August 2022. The single unit construction period lasts 69 months, and the construction interval between the two units is 10 months.
Russia and China have been strengthening ties in the nuclear energy sector lately. Apart from the Xudabao nuclear plant units, Rosatom is building nuclear units for the Tianwan nuclear power plant, which is one of the biggest joint projects of Russian-Chinese economic cooperation. The first two of its units, each with a capacity of 1,000MW, were launched in 2007. Unit 3 began operations in 2017, and the reactor at the latest, fourth unit was launched at minimum capacity in September last year after the fuel loading was finished ahead of schedule.
Also on rt.com
Russia aims to attract $28bn investment in power plant upgrades
The nuclear plants will help to meet China's goal of reducing greenhouse gas emissions, according to Joseph Jacobelli, an independent energy analyst and Asia-Pacific CEO of clean energy producer Joule Power. They will provide air pollution-free energy at a lower cost to consumers, he explained to China Daily.
For more stories on economy & finance visit RT's business section
You can share this story on social media: