Russia to retain crown as world's top wheat exporter, naturally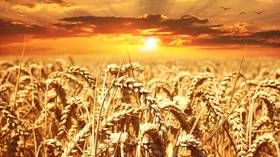 Global grain production is set for a sharp increase in the next 12 months with Russia remaining the top exporter, according to a report from the United States Department of Agriculture (USDA).
The USDA projects global wheat production to grow by 46 million tons from the previous year to a record 777 million tons. Russia will be the world's leading wheat exporter with supplies of 36 million tons, slightly down from the 2018 – 2019 level. The country is forecast to harvest its second-largest wheat crop of 77 million tons. The total amount of Russian crops is expected to be more than 115 million tons.
Global wheat consumption is set to increase by more than 21 million tons to 759 million tons to cater for a rise in food usage, USDA said.
Also on rt.com
From Russia with wheat: Exports by global grain superpower soar 80%
The Russian Ministry of Agriculture projects the country's grain harvest to grow by five percent this year to 118 million tons, including around 78 million tons of wheat. The ministry's projection included data from the Crimean peninsula.
Russian agricultural production has surged by 20 percent over the past five years. The country has managed to capture more than half of the global wheat market in recent years, becoming the world's biggest exporter of grain, thanks to bumper harvests and attractive pricing. In 2016, the country became the world leader in wheat exports. Since the early 2000s, its share of the global wheat market has quadrupled.
According to the Director of the SovEcon analytical center, Andrey Sizov, Russia's agricultural export market is actively expanding. The country supplies grain to Algeria, Jordan, Egypt, Lebanon, Turkey, and Iran. Saudi Arabia has announced plans to become a major hub for Russian agricultural products in the Middle East.
Also on rt.com
Putin orders Russian brand of 'green' non-GMO produce to be set up
Russian President Vladimir Putin said earlier the country has ensured its independence on the global wheat market. He added that Russia's enormous natural resources should serve as a guarantee for high-quality food production and should be used specifically to increase the production of organic, non-GMO food products. "I instruct the government to create a protected domestic brand of environmentally friendly, green products. We should ensure that only safe for human health technologies are used in that production," said Putin.
For more stories on economy & finance visit RT's business section
You can share this story on social media: