China ramps up crude oil imports despite Washington's clampdown on Iran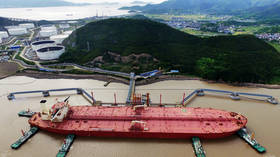 Oil imports by China unexpectedly surged in April to a record despite refinery maintenance outages and tepid domestic fuel demand, according to data from the Chinese General Administration of Customs.
Imports amounted to 43.73 million tons of crude or 10.64 million barrels per day (bpd), customs data showed. That compared with 9.26 million bpd in March and was up 11 percent from the April 2018 level, according to Reuters calculations.
"The crude imports exceeded our expectations as both domestic refinery production and margins do not appear to support such high volumes of purchases," said Wang Zhao, head of crude oil research at Sublime China Information.
Also on rt.com
United States to end sanction waivers for countries importing Iranian oil
"We may see stockpiles rising as state-run refiners pre-stocked supplies in April from Iran and the United States anticipating the impact of sanctions," he added.
Data from Refinitiv showed that China's crude oil imports from Iran rose to 24 million barrels or about 800,000 bpd in April, which is the highest level since August. The increase came as a result of buyers rushing in shipments before the US sanctions waiver deadline of early May.
READ MORE: China regrets US pressure on Iran, calls for full implementation of nuclear deal
An analyst at JCL, Zhou Guoxiao, told Reuters that strong buying from independent refineries also contributed to hefty imports in recent months as some plants replenished stocks ahead of resumption of production after planned overhauls.
Also on rt.com
Huge Iranian oil armada heads to China before US sanctions kick in
Exports of Iranian crude oil have been put in jeopardy since the White House re-imposed sanctions on Iran in November last year, demanding all countries stop importing oil from the country. Tehran said it will defy the sanctions and continue to export oil. It has also said that will stop implementing "some commitments" under a 2015 nuclear deal if it is not allowed to continue exporting oil.
Last month, Washington said it will end Iran sanction waivers that have been granted to China, India, Greece, Italy, Taiwan, Japan, Turkey and South Korea to ensure low oil prices and avoid disruption to the global oil market. The decision to end waivers "is intended to bring Iran's oil exports to zero," Washington said, warning countries that continue to buy Iranian crude after the May 2 deadline will risk facing US sanctions.
For more stories on economy & finance visit RT's business section
You can share this story on social media: