Ukraine sues Gazprom over 'anticompetitive practices' to retain earnings from transit of Russian gas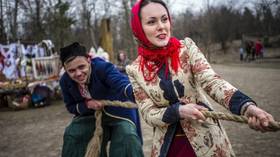 Ukrainian national oil and gas firm Naftogaz said it filed a complaint to the European Commission accusing Russian energy giant Gazprom of anticompetitive practices in relation to the Nord Stream 2 pipeline which bypasses Ukraine.
Via the complaint, the Ukrainian state-run company proposes "a series of remedies that would mitigate Gazprom's anticompetitive behavior," the statement reads. Naftogaz wants the Russian corporation to make gas "available to European purchasers on Ukraine's Eastern and Western borders at a price equal to the price offered to Nord Stream 2 customers adjusted for relevant transportation costs."
Also on rt.com
Ukraine vows 'merciless war' to secure Russian gas transit to Europe
The document was prepared in close cooperation with "European best experts and lawyers," Naftogaz executive director Yuriy Vitrenko posted on Facebook.
The Ukrainian company says that the Nord Stream 2 pipeline, which is currently being constructed by Gazprom in partnership with five European energy majors, will change the direction of gas flows, making "virtual reverse flows" through Ukraine impossible.
According to Naftogaz, virtual reverse flows represent a scheme of gas deliveries that allows Ukraine to purchase the Russian fuel from European buyers by acquiring its share during the process of transiting. In other words, after rejecting gas purchases from Russia, Kiev still wants to buy Russian gas which is intended for Gazprom's European customers, but physically doesn't reach them.
The Ukrainian corporation also accuses Gazprom of entirely bypassing "the Ukrainian gas transmission system, which would be left stranded, or at least significantly marginalized."
Also on rt.com
Berlin says crisis in Ukraine & Nord Stream 2 pipeline are two separate issues
According to Vitrenko, if the complaint is addressed by the European lawmakers, Kiev will be able to retain earnings from transits of Russian gas through Ukrainian territory, as well as reduce the cost of its own gas imports from Russia.
The Nord Stream 2 pipeline, running from Russia to Germany under the Baltic Sea, is expected to be finished by the end of the year. After the full overdrive launch, the project will double the existing pipeline's capacity of 55 billion cubic meters annually. The pipeline is a joint venture involving Gazprom, German oil and gas firms Wintershall and Uniper, French multinational Engie, British-Dutch energy corporation Royal Dutch Shell, and Austrian energy company OMV.
For more stories on economy & finance visit RT's business section
You can share this story on social media: