Belarus halts transit of Russian crude to Poland & on to Europe, cites quality concerns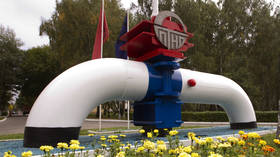 The transfer of Russian crude oil into Poland and further into Europe through one of the pipeline branches going through Belarus has been suspended after Warsaw refused to process the oil in its refineries citing its poor quality.
Poland has stopped accepting Russian crude arriving through Belarus at the Adamovo hub since 10.00 pm Warsaw time [20.00 GMT] on Wednesday, chief engineer of Belarusian pipeline operator Gomeltransneft Druzhba Andrey Verigo confirmed Thursday night, as quoted by the BelTA news agency. Polish pipeline operator PERN informed the Belarusian side that it could no longer process the crude due to a drop in its quality, Verigo said. It is not clear when the deliveries into Europe will resume.
The transit of the Russian crude towards Ukraine which goes through the southern leg of the pipeline has not been affected by the issue and is transporting about 40 thousand tons daily. The southern branch delivers Russian oil to the Czech Republic, Slovakia and Hungary.
The disruption of the oil supplies comes after both Belarusian and Polish pipeline operators complained about the quality of the incoming crude for the past several days. On Tuesday, Belarus temporarily stopped benzene and diesel exports to Poland, Ukraine and the Baltics, citing risks to equipment because of the poor-quality oil.
The Belarusian State Concern for Oil and Chemistry (Belneftekhim) has accused Moscow of lagging behind its pledge to fix the issue. The company's spokeswoman, Marina Kostyuchenko, said that Belneftekhim has been in talks with the Russian state-owned Transneft oil company for the past week, but so far the issue has not been resolved.
Transneft admitted earlier that the crude it had delivered to Belarus was indeed of a low quality. The source of organic chloride contamination was pinpointed to the section of a pipeline in the Samara region in southwestern Russia.
The Polish Energy Ministry said that the decision to suspend oil imports from Russia was made due to concerns that the contaminated oil can cause material damage to refineries. Until the transit system is cleaned up, Poland will use its crude oil reserves to satisfy the demand. Warsaw might consider crude shipments via the Gdańsk seaport if the situation drags on, the ministry said.
Think your friends would be interested? Share this story!
You can share this story on social media: