A bad sign for Tesla bulls? Top Tesla investor slashes stake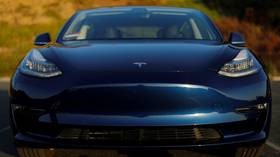 Funds managed by T. Rowe Price, which was until recently the second-largest shareholder in Tesla after Elon Musk, significantly cut their holdings in the electric vehicle (EV) maker in the past six months.
T. Rowe Price Associates held a total of 8,977,064 shares in Tesla as of December 31, 2018, accounting for 5.2 percent of all Tesla's stock, a filing to the SEC showed.
In a previous SEC filing at the end of September, T. Rowe Price had reported that it held 17.4 million shares in Tesla as of September 30, 2018, or 10.2 percent of Tesla's stock.
After halving its stake in Tesla in the fourth quarter of 2018 to 5.2 percent from 10.2 percent, T. Rowe Price continued to cut its shareholding in the EV maker in the first quarter, according to Refinitiv data cited by Reuters.
Also on rt.com
Tesla 'would love' to enter India's car market – CEO Elon Musk
In the first quarter of 2019, T. Rowe Price divested 92 percent of its previous interest in Tesla, data from Refinitiv showed, but the data may not include all funds managed by T. Rowe Price, Reuters notes.
Once a top shareholder, the drastic reduction in T. Rowe Price's stake in Tesla over the past six months could be bad news for Tesla bulls, especially after negative sentiment had started to build up around the company again.
In the first quarter this year, Tesla had a challenging time with deliveries, with its total vehicle deliveries slumping by 31 percent from the previous quarter, ending well below analyst estimates.
Also on rt.com
Boeing's latest crashes pose serious risk to global AI development – analysts
Tesla delivered around 63,000 vehicles from January through March, up by 110 percent compared to the first quarter of 2018, but 31 percent lower than the vehicles delivered in the fourth quarter of 2018, the EV maker said earlier this month.
Meanwhile, true to himself, Elon Musk continued to taunt the SEC with tweets amid a dispute over his unchecked and potentially stock-moving tweets about Tesla's performance.
This article was originally published on Oilprice.com
You can share this story on social media: