'Best times over': German economy turning into Europe's underperformer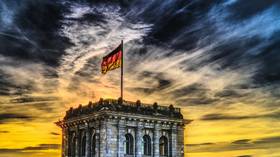 Europe's biggest economy Germany is bracing for its worst GDP growth in a decade due to increased trade conflicts and slowing economic activity in the Eurozone.
Those headwinds have prompted the government to slash its growth forecast for this year for the second time in three months.
Berlin said it had halved its 2019 growth estimate to 0.5 percent. The forecast is more pessimistic than industry predictions, with leading economists lowering their growth forecast to 0.8 percent. Based on European Commission forecasts for the rest of the euro-area, the prediction would leave Germany as the region's worst performer this year.
Also on rt.com
Sanctions? Russian economy to overtake Germany's by 2020 – report
Economy Minister Peter Altmaier said the new statistics were a "wake-up call" for the country, adding that politicians needed to think about how they could stimulate growth. The minister, who has repeatedly called for Germany to cut its corporate tax rate, proposed a moratorium on measures that would burden the economy. Altmaier said he expects growth of 1.5 percent in 2020.
READ MORE: Euro drag: Germany & Netherlands the only real euro winners, study finds
The Federation of German Industries (BDI) has also urged the government to provide more incentives for eco-friendly investment and to cut corporate taxes.
Also on rt.com
Eurozone's economic growth forecast cut due to 'large uncertainty'
"The best times for the economy are over," BDI Managing Director Joachim Lang said. "The government must not lose any more time."
For more stories on economy & finance visit RT's business section