EU accuses German carmakers of blocking development of emissions cleaning technology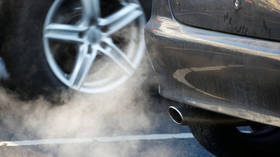 German auto industry giants Volkswagen (VW), BMW and Daimler have been accused by the European Union (EU) antitrust regulators of colluding to block the rollout of emissions cleaning technology.
The so-called 'Statement of Objections' comes a year and a half after EU authorities first raided the offices of the three companies over reports of possible collusion. Last year, the European Commission (EC) announced it was opening an in-depth investigation.
Also on rt.com
EU probes Germany's 'circle of five' carmakers over clean emissions technology
The EC said on Friday that it sent statements of objections to the companies, setting out the charges that they had breached EU antitrust rules from 2006 to 2014. The collusion took place during the carmakers' technical meetings, it said.
"Daimler, VW and BMW may have broken EU competition rules. As a result, European consumers may have been denied the opportunity to buy cars with the best available technology," said European Competition Commissioner Margrethe Vestager.
The regulator has accused the three companies of colluding over two systems. According to the statement, between 2006 and 2014 they colluded to limit the use of Adblue in their selective catalytic reduction (SCR) systems for diesel cars. The automakers conspired to delay or even avoid releasing 'Otto' particle filters (OPF) which reduce petrol emissions between 2009 and 2014, it said.
Also on rt.com
New act of Dieselgate: Over 300,000 Volkswagen owners sue company for damages over emissions fraud
While collaboration to improve products is allowed, "EU competition rules do not allow [companies] to collude on exactly the opposite: not to improve their products, not to compete on quality," Vestager said.
Daimler, which alerted the regulator to the collusion, reiterated it did not expect to be fined as a result of its information.
If the commission "concludes there is sufficient evidence of an infringement, it can adopt a decision prohibiting the conduct and imposing a fine of up to 10 percent of a company's annual worldwide turnover," the EC said.
For more stories on economy & finance visit RT's business section
You can share this story on social media: