'Apocalyptic quarter': Tesla's share price dives after reporting huge sales drop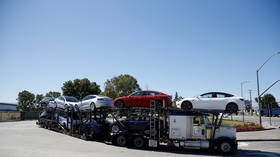 Tesla shares fell 8.2 percent after the electric car maker reported worse-than-expected deliveries for the first quarter, raising concerns about the demand for its vehicles.
About 63,000 vehicles were delivered to customers in the first three months of 2019, which is a 31 percent drop compared to the previous quarter. The total sales figures included about 50,900 Model 3 sedans, (Tesla's best-selling vehicle) and 12,100 luxury Model S sedans and Model X SUVs.
Also on rt.com
Tesla gets slap on the wrist from US environmental agency over hazardous waste violations
The Silicon Valley automaker now expects quarterly profits to be "negatively impacted." It has attributed the massive drop to challenges of delivering its lowest-priced Model 3 to the new markets Europe and China. The company said that it encountered "many challenges" with a "massive increase" in shipments abroad, something it has previously warned investors about.
It explained that a "large number of vehicle deliveries" are expected to be shifted to the second quarter, as about 10,600 vehicles were in transit when the first quarter ended. Analysts had expected Tesla to deliver 82,000 vehicles between January and March; that figure was later reduced to 71,350. In the fourth quarter, Tesla delivered 90,700 cars. The company already said it expected fewer Model S and Model X sales compared to a year earlier.
Also on rt.com
Tesla lagging behind competitors in European EV markets
Wall Street was already bracing for "an apocalyptic quarter," managing director at Equity Research Daniel Ives told CNN. According to him, overall sales were "clearly soft," but the low number "represents an 'air pocket' quarter in our opinion." He said that was encouraged because Model 3 deliveries "were better than feared."
Deliveries last quarter were still significantly larger than the first quarter of 2018, when Model 3 production was just getting started. During that quarter, Tesla sold less than 30,000 vehicles. The company's sales, however, have never fallen so much between quarters.
US orders for Model 3 vehicles "significantly outpaced" deliveries, indicating there's still strong demand for the car, Tesla said. "We reaffirm our prior guidance of 360,000 to 400,000 vehicle deliveries in 2019."
Also on rt.com
Bringing sexy back: Elon Musk unveils Tesla's 2nd electric SUV Model Y
Tesla was already going through hard times, with company's CEO and founder Elon Musk charged by the SEC with contempt for tweeting "inaccurate and material" information about the firm. Some key executives have left the company recently. Investigations are underway over the recent death of a Model 3 owner in Florida who was using Tesla's autopilot system.
News of slowing sales could add to concerns about whether Tesla has enough cash to make its hefty debt payments. In March, the car company paid off a $920 million bond, following a $230 million payment made in November. Its next big payment is a $566 million debt issue that is due in November. Another $1.4 billion payment in notes is due in two years.
The company said in its statement on Wednesday that it "ended the quarter with sufficient cash on hand."
For more stories on economy & finance visit RT's business section
You can share this story on social media: