Jeff Bezos still world's richest man after record $35 billion divorce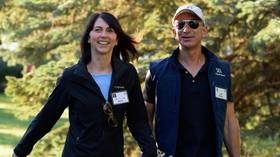 MacKenzie and Jeff Bezos said they have agreed terms for their recently announced divorce, with the soon-to-be ex-wife of the world's wealthiest man set to sign away 75 percent of her Amazon stock to her husband.
She will hold on to the remaining 25 percent of the couple's stock, which will give MacKenzie a four-percent stake in the world's second-biggest corporation. Based on Amazon's current market value, her shares are worth nearly $35 billion.
"Happy to be giving him all of my interests in the Washington Post and Blue Origin, and 75 percent of our Amazon stock plus voting control of my shares to support his continued contributions with the teams of these incredible companies," MacKenzie Bezos said in a tweet.
"The divorce decree is expected to be issued in approximately 90 days," according to a new filing with the Securities and Exchange Commission. The filing also notes that if MacKenzie Bezos decides to sell her shares, a new owner will have to enter into an agreement with Jeff Bezos to grant him the rights to vote those shares.
Also on rt.com
Jeff Bezos could lose title as world's richest man with upcoming divorce
The couple announced their plans for divorce in January. The 54-year-old owner of Amazon and his life partner MacKenzie, 48, have been married since 1993 and have four children. The decision to separate was announced by Jeff Bezos in a surprisingly romantic tweet. The pair repeatedly said they were planning to remain good friends and partners.
For more stories on economy & finance visit RT's business section
You can share this story on social media: