EU will soon establish alternative payment channel allowing Iran to bypass US sanctions – Mogherini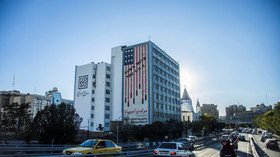 Brussels will create an alternative payment channel to facilitate financial transactions between the European Union and Iran in the near future to bypass US sanctions, the EU's top diplomat, Federica Mogherini, has announced.
"I will expect this instrument to be established in the coming weeks before the end of the year as a way to protect and promote legitimate business," EU's foreign policy chief told reporters on Monday.
The 28-nation bloc has been considering ways to continue doing business with Tehran and bypass US economic restrictions after Washington pulled out from the Iran nuclear deal and reimposed economic sanctions.
Also on rt.com
No volunteers: EU countries bow to US pressure over alternative payment channel for Iran
In November, EU officials proposed creating a clearinghouse, or a special purpose vehicle (SPV), to facilitate financial transactions with Iran. The proposal failed to reach an agreement after not a single EU country agreed to host such a mechanism out of fear of punitive measures that Washington may potentially introduce against them.
So far, France and Germany have ruled themselves out as SPV hosts. At the same time, the EU's major powers are reportedly planning to put more pressure on Luxembourg and Belgium to host the headquarters for the SPV after Austria declined a request to manage the project. Both Belgium and Luxembourg have reportedly dropped a hint of doubt over the issue.
Shortly after President Donald Trump pulled the US out of the Iran nuclear deal, signed between Tehran and major world powers, leaders of European states activated legislation banning the bloc's companies from complying with US sanctions against the Islamic Republic.
However, the measure failed to prevent European business giants, including Total, Volkswagen, Daimler, Peugeot, Renault and Siemens from withdrawing from the country. European multinationals are much more concerned about losing the US market than the possible fines they could face from Brussels for leaving Iran.
For more stories on economy & finance visit RT's business section
You can share this story on social media: