Australia borrows crown from Qatar as world's top LNG exporter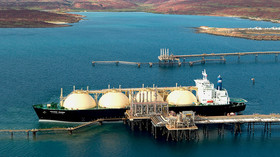 In November, Australia became the biggest exporter of liquefied natural gas (LNG), overtaking the small Arab nation of Qatar, that has over recent years been the world's top producer, the latest data from Refinitiv Eikon shows.
According to the data, Australia shipped out 6.8 million tons of LNG last month against 6.2 million tons exported by the Qatari producers. Australia's LNG exports surged by more than 15 percent compared to the previous month, while volumes of the liquefied fuel shipped by Qatar dropped three percent, marking the first decline in four years.
"It may have come later and at a higher cost than originally envisaged, but Australia has taken the crown," said Saul Kavonic, energy analyst at Sydney-based Credit Suisse unit, as quoted by Reuters.
"Qatar, of course, will respond and we expect a new wave of projects to be launched which will see Qatar regain its position as the leading exporter by the early 2020s," Neil Beveridge, an analyst at Sanford Bernstein, told the agency.
"We are expecting this to be temporary and that Qatar will likely produce 6.5 million tons in December, meaning it will again be the largest exporter," Wood Mackenzie analyst Nicholas Browne said, citing maintenance as the key reason for the drop in November.
Last week, Qatari Energy Minister Saad al-Kaabi announced that the nation will quit the Organization of the Petroleum Exporting Countries (OPEC) in January 2019. According to al-Kaabi, Qatar, which currently exports around 600,000 barrels per day of crude oil, is planning to focus on developing its natural gas sector.
Qatar is expected to increase its annual LNG output from the current 77 million to 110 million tons as soon as in 2024. To achieve the goal the peninsula state is planning to add a fourth LNG production line.
"The reality is Australia will only keep this title for a few years before Qatar retakes the crown, and in the longer term, it will likely be a US versus Qatar story for [the] top spot with Australia in third place," according to Credit Suisse's Kavonic.
For more stories on economy & finance visit RT's business section