Russia & Venezuela sign $5bn investment contracts 'to increase oil production' – Maduro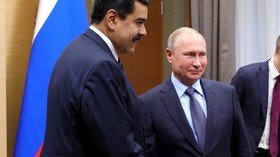 Caracas and Moscow have signed $5 billion US dollars' worth of contracts related to oil production during President Nicolas Maduro's visit to Russia, Maduro tweeted a day after meeting with President Vladimir Putin.
Maduro announced the deal on Twitter, thanking Putin and the people of Russia.
"Contracts have been signed to guarantee investments for $5 billion to increase oil production with Russian partners of joint ventures," Maduro said.
Al finalizar la exitosa agenda de trabajo con nuestros hermanos de la Federación de Rusia, realizamos un balance, muy positivo, para el bienestar del pueblo venezolano. ¡Gracias pueblo de Rusia! ¡Gracias Presidente Vladímir Putin! pic.twitter.com/vm5l022R2F

— Nicolás Maduro (@NicolasMaduro) December 6, 2018
In addition, an investment of more than $1 million was agreed for mining production in Venezuela, mainly of gold, according to Maduro, who has been on an official state visit to Moscow since Tuesday.
Russia and Venezuela run many joint projects in the energy, agricultural, geological, pharmaceutical, technology, and defense sectors. Russia's investment in Venezuela exceeds $4 billion, according to TASS.
Like this story? Share it with a friend!
You can share this story on social media: