Maduro defends Venezuela's right to sell gold amid US sanctions push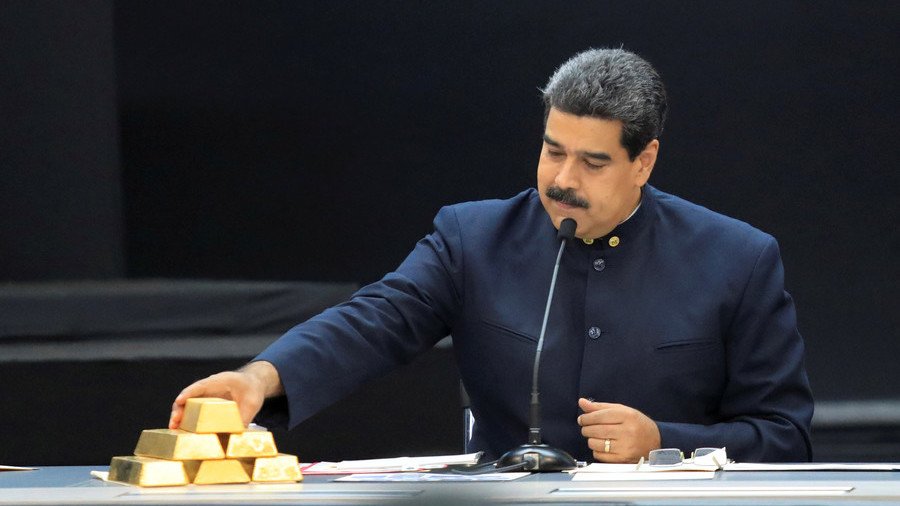 Venezuelan President Nicolas Maduro insists that national gold exports should continue despite sweeping US sanctions targeting the industry. It comes after the UK refused to release around $550 million in gold owned by Caracas.
"Venezuela has the right to sell what it produces. We are moving forward with the plan on gold output as the new source of prosperity," Maduro stated, as cited by media, after the meeting with Turkish President Recep Tayyip Erdogan on Monday.
Maduro's statement comes shortly after the Bank of England (BoE) refused to return around $550 million-worth gold to Venezuela. The decision was based on concerns by British officials of possible money laundering. They claim the Venezuelan leader "may seize the gold, which is owned by the state, and sell it for personal gain."
Washington has tightened its grip on the Latin American nation and its leadership, who the US accuses of violating human rights, imposing rounds of sanctions, including banning US individuals and corporations from dealing with entities and people involved in gold sales from the country.
"It is very petty to try to use an illegal sanction to prevent Venezuela from selling its gold to the world," Maduro said.
Turkey has been at odds with the US over the restrictive measures against the South American country. President Erdogan lambasted US restrictions as "manipulative attacks from certain countries and acts of sabotage from economic assassins."
Meanwhile, Ankara and Caracas have been increasing cooperation, and bilateral trade reached $892.4 million in the first five months of 2018, according to the Turkish Statistical Institute.
Ankara also helps Venezuela to avoid some of the constraints of US sanctions. The two countries recently agreed that Venezuelan gold will be refined in Turkey instead of Switzerland over fears that the precious metal will not be released from the latter due to restrictive US measures.
For more stories on economy & finance visit RT's business section
You can share this story on social media: