Russia excels in ditching dollar ahead of pending US sanctions against country's financial system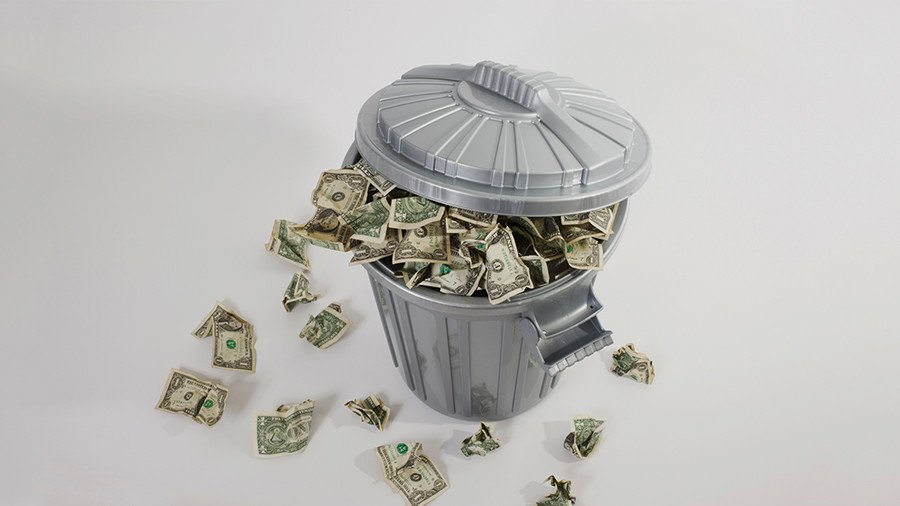 The list of the countries currently taking active steps towards eliminating their economic reliance on the US dollar is growing. Russia has joined a league of nations is making a lot of headway with the task, the WSJ reports.
The share of foreign currency in corporate and personal deposits in Russia has declined to 26 percent in September from a 2016 peak of 37 percent, the newspaper reports, citing data from the Central Bank of Russia. Meanwhile, the share of dollar-priced export revenues reportedly dropped to 68 percent in the second quarter of the current year from more than 80 percent five years ago.
Rapidly growing trade turnover with Russia's partners in Asia, particularly China, is seen as one of the success criteria of the work on de-dollarizing the economy. The share of Russia-China trade priced in national currencies has quadrupled in four years to some 19 percent of the entire turnover, and is set to grow further, Moscow-based economist at ING Bank Dmitry Dolgin told the media.
The broad plan to eliminate Russia's dependence on the greenback, which was pushed by the country's President Vladimir Putin, came amid the constantly growing burden of sanctions that have been introduced since 2014 over a number of issues. The next round of US anti-Russian penalties may reportedly hit the country's financial system.
Russia is hardly the only country trying to fight against the predominance of US currency across the global financial system. The European Union has recently announced plans to create a special purpose vehicle to keep on trading with Iran, as these transactions had become a target for US unilateral sanctions. The partners are reportedly working on using the euro in mutual trade and other business activities.
Earlier this year, China launched a long-anticipated crude oil futures contract that is priced in yuan and convertible into gold. The contract has gained widespread popularity among oil traders.
Last month, Venezuela announced plans to abandon the US dollar and start making all future transactions on the country's exchange market in euro. The step is set to solve the problem of US sanctions that are cutting the Latin American country from dollar transactions.
"It's not clear how much of this [de-dollarization] trend is poker games, but the unpredictability of current US foreign policy means that more countries need to question things that have never been questioned before," said Thomas Flury, head of foreign-exchange strategies at UBS Global Wealth Management, as quoted by the media.
For more stories on economy & finance visit RT's business section
You can share this story on social media: