Gold demand up 42% as countries abandon US dollar in expectation of geopolitical shift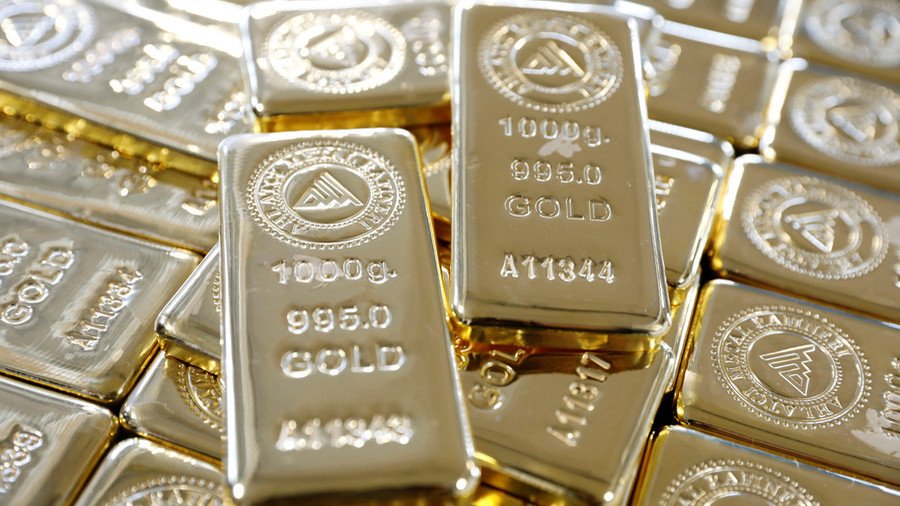 Central banks around the world are turning to gold as an alternative to the US dollar, which they see as being undermined by America's aggressive trade policy and geopolitical uncertainty.
Demand for gold was up 42 percent year on year in the first quarter of 2018 among central banks, the World Gold Council (WGC) statistics say. Russia and Turkey are the largest net buyers.
Central banks added a net total of 193.3 tons of bullion in the half of 2018, an 8 percent increase from the 178.6 tons bought in the same period last year. This marks the strongest six months for central bank gold buying since 2015, the WGC notes.
As of the first half of 2018 central banks increased their gold holdings to $1.36 trillion, around 10 percent of global foreign exchange reserves, the WGC said. An analyst has told RT that the reason behind the move is a wish to diversify from the greenback.
"The United States has long used the dollar to put pressure on competitors. This has always caused anger in the world community. And now the fight against the dollar has reached Europe," said Eldiyar Muratov, President at Singapore Castle Family Office.
"Russia has stepped up buying gold in its reserves in the face of new US sanctions and a possible disconnection from the dollar system," added the analyst.
According to Muratov, a similar strategy is now being observed in many countries in Europe and Asia. China, Turkey, Venezuela, Iran, Qatar and Indonesia, are aimed at de-dollarization of economies and foreign trade. All these countries are significantly increasing their gold reserves, the expert says.
As the WGC notes in its report, gold buying is not only about hedging currency risks. "In an environment of heightened geopolitical tensions, gold is an attractive asset because it is not anyone else's liability and does not carry any counterparty risk," the report says.
"Gold is already a familiar asset class for central banks, but the changing nature of the gold market – with ever-growing consumption coming from developing economies – means that gold is increasingly aligned with emerging market economic patterns. Central banks may increasingly recognize that the rules of the game are changing."
For more stories on economy & finance visit RT's business section
You can share this story on social media: