US market meltdown wipes out 2018 gains as Trump trade wars take toll on stocks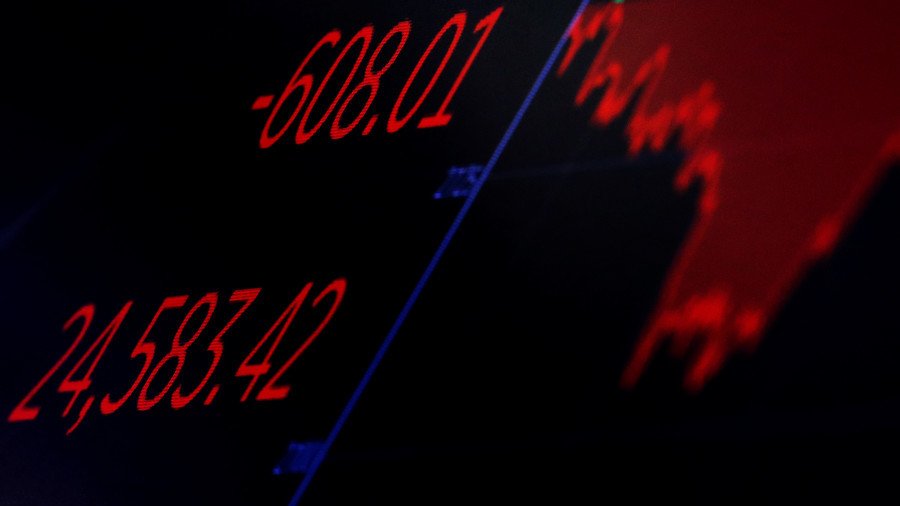 American equities faced another major selloff on Wednesday. It was one of the worst trading sessions for US stocks in years, erasing all gains seen in 2018. Analysts name President Donald Trump's trade wars as one of the reasons.
The Dow Jones Industrial Average fell 608 points, or 2.4 percent, to 24,583.42. The S&P 500 plunged 84.59 points, or 3.1 percent, to 2,656.10, marking sixth straight losing session.
Meanwhile, the Nasdaq Composite Index dipped 329.14 points, or 4.4 percent, to 7108.4.
The tech-heavy index is more than 10 percent below its August 29 all-time high, entering the correction territory. Wednesday was the worst day for the Nasdaq since August 18, 2011.
"What is happening on Wall Street is hardly surprising. The US is implementing a sharp monetary policy and is waging foreign trade wars against everyone. In such conditions it becomes harder and harder to grow. There is still room for correction in the US, so we are waiting for the development of the situation," Roman Blinov, head of analytical department at International Financial Center said in an email to RT.
The analyst also noted corporate earnings disappointment in the US, a growing conflict over budget spending between Italy and the European Union, and growing crisis around oil power Saudi Arabia over the killing of journalist Jamal Khashoggi.
The selloff on Wall Street dragged down some global markets as well. The standout loser, Thursday, was Japan's Nikkei index, which lost 3.72 percent. In China, Shanghai composite traded slightly higher at 0.5 percent, while stock indices in Europe were either trading flat or showing modest gains.
For more stories on economy & finance visit RT's business section
You can share this story on social media: