Tesla to end up like Lehman Brothers once Musk's 'deception' revealed – investor
The 'deception' around electric car maker Tesla will catch up to the company soon, according to hedge fund manager David Einhorn. He compared Elon Musk's behavior to Lehman Brothers executives shortly before the bank's demise.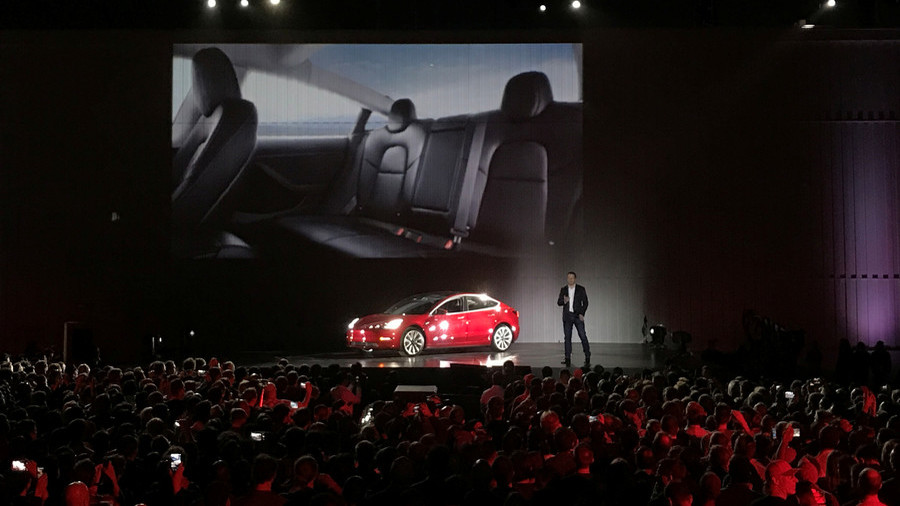 In a letter to investors, Einhorn wrote that like the investment bank that famously collapsed a decade ago "the deception is about to catch up to TSLA. Elon's Musk erratic behavior suggests that he sees it the same way."
According to Einhorn, "Lehman threatened short sellers, refused to raise capital (it even bought back stock), and management publicly suggested it would go private. Months later, shareholders, creditors, employees and the global economy paid a big price when management's reckless behavior led to bankruptcy."
Lehman Brothers was one of the largest investment banks in the US, whose collapse triggered a global financial crisis of 2008. Einhorn is known for his short-selling of Tesla stock. In other words, he makes bets that Tesla shares would fall in price.
Bets against Tesla have been good for Einhorn's Greenlight Capital as the carmaker's stock plunged nearly 25 percent during the third quarter. Einhorn's fund has been burning through money, too – a 25 percent loss for the year despite the record gains in S&P 500.
According to Einhorn, Tesla has been acting in many ways like Lehman Brothers, which attacked Einhorn when he said that the bank was a risk to the financial system. A few months later Lehman collapsed.
"There are many parallels to TSLA. In 2013, TSLA was on the brink of failure. … TSLA's cash reserves fell to a dangerously low level and CEO Elon Musk secretly and desperately tried to sell the company," he said. "Rather than communicating the truth to shareholders, Mr. Musk bluffed his way through the crisis."
The hedge fund manager predicts that Tesla would post a "large revenue and earnings disappointment" in its fourth quarter. Tesla has burnt through $3.5 billion since the beginning of the year, but Elon Musk hinted that Tesla may soon be profitable in recent emails to employees that were leaked to the media.
For more stories on economy & finance visit RT's business section
You can share this story on social media: