Trump doubles steel & aluminum tariffs on Turkey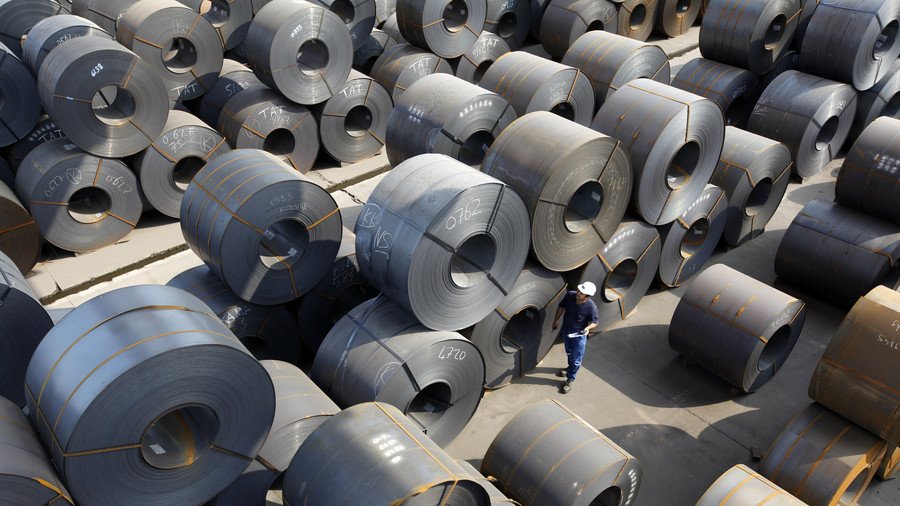 US President Donald Trump is doubling tariffs imposed on Turkish steel and aluminum, insisting that the relationship between the two countries is 'not good.'
I have just authorized a doubling of Tariffs on Steel and Aluminum with respect to Turkey as their currency, the Turkish Lira, slides rapidly downward against our very strong Dollar! Aluminum will now be 20% and Steel 50%. Our relations with Turkey are not good at this time!

— Donald J. Trump (@realDonaldTrump) August 10, 2018
Washington and Ankara are at odds over the detention of US evangelical pastor Andrew Brunson on terrorism charges in Turkey. He is facing up to 35 years in prison if found guilty of supporting the unsuccessful coup to overthrow President Recep Tayyip Erdogan in 2016.
Trump decided in March to impose import duties of 25 percent on steel and 10 percent on aluminum imports from several countries, including Turkey. He has drawn criticism from other nations for triggering the global trade war.
The diplomatic rift between the countries has made the Turkish lira set multiple record lows in the past week. The lowest exchange rate is 6.64 against the greenback set on Friday. Investors in Turkey are also worried about President Erdogan's interference in the country's central bank.
Turkey imposed $266.5 million in tariffs against the US in June, targeting American imports of coal, paper, walnuts, almonds, tobacco, whiskey and machinery, amongst other items.
On August 1 Washington announced sanctions against Turkey's justice and interior ministers, prohibiting US entities and citizens from doing business with them, after threatening to impose "large sanctions" if Ankara failed to free Brunson.
Erdogan replied that Turkey will not back down despite Trump's sanctions policy and said he would answer with mirror retaliation.
"We had shown patience until yesterday evening. Today I am instructing my friends that we will freeze the assets of US secretaries of justice and interior in Turkey," he said last week.
The Turkish president added that NATO could lose an ally. "The US should not forget that it could lose a strong and sincere partner like Turkey if it does not change its attitude," he was quoted as saying by Hurriyet daily.
For more stories on economy & finance visit RT's business section
You can share this story on social media: