Trade war bailout: Trump promises $12bn in emergency aid to US farmers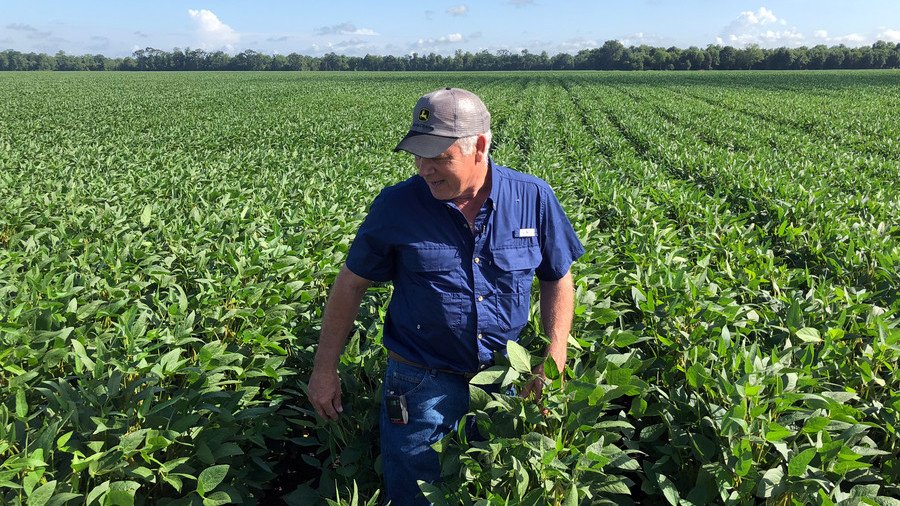 The Trump administration has unveiled plans to offer billions of dollars in aid for farmers hurt by the escalating trade war. US farmers have been hit by retaliatory tariffs on goods like soybeans, pork, and beef.
"President Trump has promised since day one that he had the back of every farmer and rancher," Secretary of Agriculture Sonny Perdue told reporters Tuesday. He said the assistance was a short-term solution, but that it would offer "Trump and his administration time to work on long-term trade deals."
The aid is intended to protect the industry as countries started raising levies on US products such as soybeans in response to Trump's trade tariffs. Washington plans to provide subsidies to farmers and buy unsold crops, distributing them to food banks and other government nutrition programs. The first assistance is expected to be provided by the beginning of September.
Trump who has described the tariffs as "the greatest" on Tuesday, said farmers would be the "biggest beneficiary" of the disputes after the US and its partners strike new trade deals.
The European Union is coming to Washington tomorrow to negotiate a deal on Trade. I have an idea for them. Both the U.S. and the E.U. drop all Tariffs, Barriers and Subsidies! That would finally be called Free Market and Fair Trade! Hope they do it, we are ready - but they won't!

— Donald J. Trump (@realDonaldTrump) July 25, 2018
"Tariffs are not great," Senator Pat Toomey told CNBC. Toomey who's a member of the Senate's banking and finance committees explained: "They are taxes, paid by Americans that harm consumers, workers, and companies."
Farmers need stable markets to plan for the future, according to Brian Kuehl, executive director of the industry group Farmers for Free Trade, which represents pork producers, corn growers and others.
Prices for soybeans have already fallen by more than 15 percent since April, when China, the major buyer of the crop, announced plans to retaliate. The US Agriculture Department said that it expects losses at around $11 billion as a result of the trade disputes.
"As such, we urge the administration to take immediate action to stop the trade war and get back to opening new markets," Kuehl was cited as saying by the BBC.
For more stories on economy & finance visit RT's business section
You can share this story on social media: