High ambitions: China launches first commercial space rocket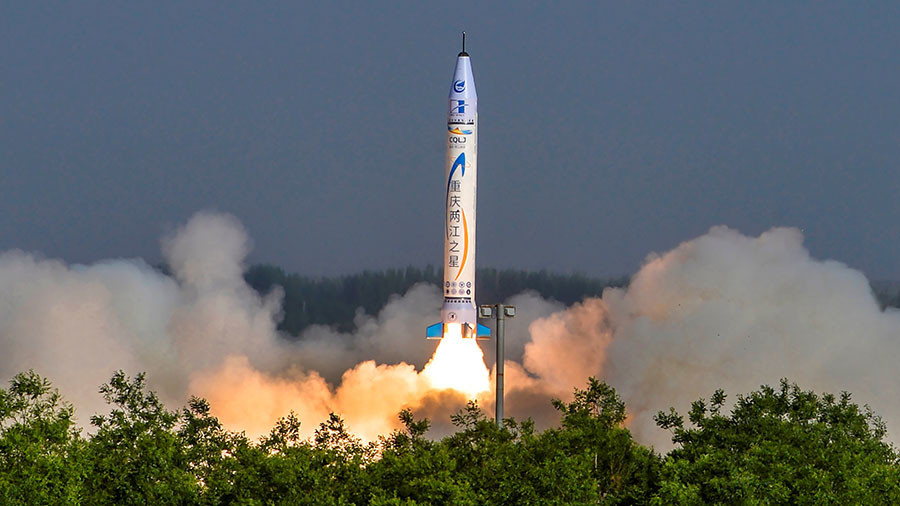 Space startup OneSpace said it launched a 9-meter-tall OS-X rocket, becoming the first Chinese private firm to launch its own craft into space. The launch is seen as a crucial milestone for the nation's commercial space delivery.
The mission is reportedly aimed at collecting data for the research project OneSpace and is jointly being developed with the state-run Aviation Industry Corporation of China. The Beijing-based startup was launched in 2015 and is frequently likened to Elon Musk's SpaceX.
"OneSpace's situation right now is very much like where SpaceX stood in its early years. SpaceX is the first in the US. We're the first in China," CEO Shu Chang said in an interview with CNNMoney.
The rocket can place a 100-kilogram load into orbit, according to the official Xinhua news agency. The spacecraft reportedly uses energy-saving technology, which has helped to keep fuel costs down by nearly 30 percent.
OneSpace expects 10 missions for carrier rockets in 2019, according to Shu. "I hope we can become one of the biggest small-satellite launchers in the world," he said, as quoted by the official China Daily.
The firm is reportedly the result of the Chinese government's huge initiative to promote the commercial space flight industry, and some private investment. Last year, OneSpace clinched a deal with the state-owned Chongqing Liangjiang Aviation Industry Investment Group to work on a joint research and manufacturing base in the southwestern municipality of Chongqing.
Shu highlighted that the base's strategic location as part of China's Belt and Road Initiative could give the company a big export market. "We will develop bigger rockets in the future and participate in the global competition," he told China Daily.
For more stories on economy & finance visit RT's business section