Iran signs provisional pact to enter Russia-led free-trade zone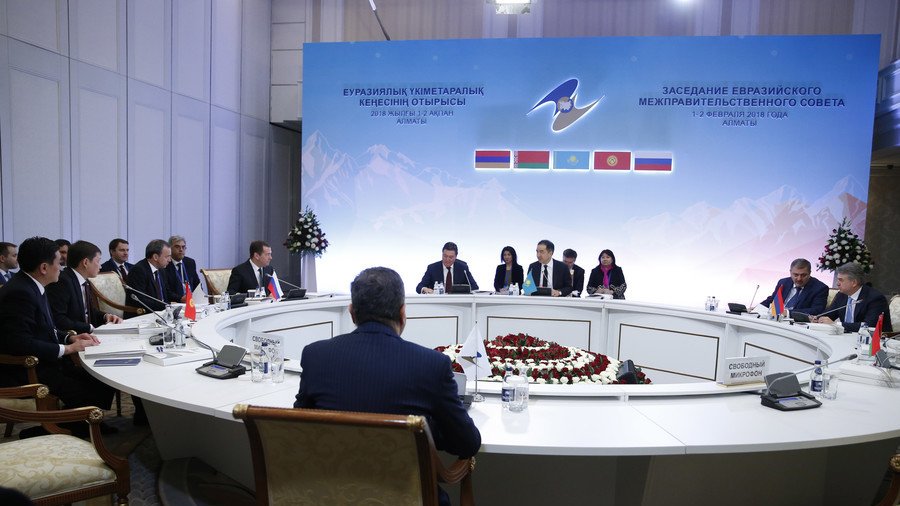 The five-nation Eurasian Economic Union (EEU) has signed a 3-year provisional agreement with Iran to welcome the Islamic Republic into the bloc's free-trade zone.
"The temporary agreement stipulates an effective dispute settlement mechanism, including arbitration… It also creates a joint committee of high-ranking officials and establishes a business dialogue," the chair of EEU economic commission board, Tigran Sargsyan, said at the ceremony in Astana, Kazakhstan on Thursday.
READ MORE: Europe to ditch US dollar in payments for Iranian oil – source
The arrangement is the first step in implementing free trade between Iran and the five members of the union, which includes Armenia, Belarus, Kazakhstan, Kyrgyzstan, and Russia.
"Our negotiators have already set a long-haul objective for the next three years to agree a full-fledged accord on a free trade zone," Sargsyan announced, as cited by Sputnik.
Earlier on Wednesday, the head of the Economic Affairs Committee of Iran said that Tehran intends to boost economic ties with Moscow and the prospect of the return of US sanctions will only serve to strengthen them.
"Not only will the previous agreements remain in force, but, there will be new ones, there will be new contracts," Reza Pour Ebrahimi told RIA Novosti.
After the US withdrew from the Iran nuclear deal, Washington said it would give European companies six months to wind up their investments in Tehran or risk US sanctions, and they are also forbidden from signing any new contracts with the country. Russia said it will remain committed to the deal, describing the US actions against Iran as "veiled protectionism."
The EEU was established in 2015 based on the Customs Union of Russia, Kazakhstan, and Belarus, and was later joined by Armenia and Kyrgyzstan. In 2016, Vietnam officially became the first non-regional country to join the bloc's free trade zone, which is designed to ensure the free movement of goods, services, capital, and workers. Since then, more than 40 countries and international organizations, including China, Indonesia, Israel, South Korea, Egypt, and India, as well as some South American countries, have expressed interest in a free-trade deal with the EEU.
For more stories on economy & finance visit RT's business section
You can share this story on social media: