Turkish lira touches record low as Erdogan pledges more govt control of economy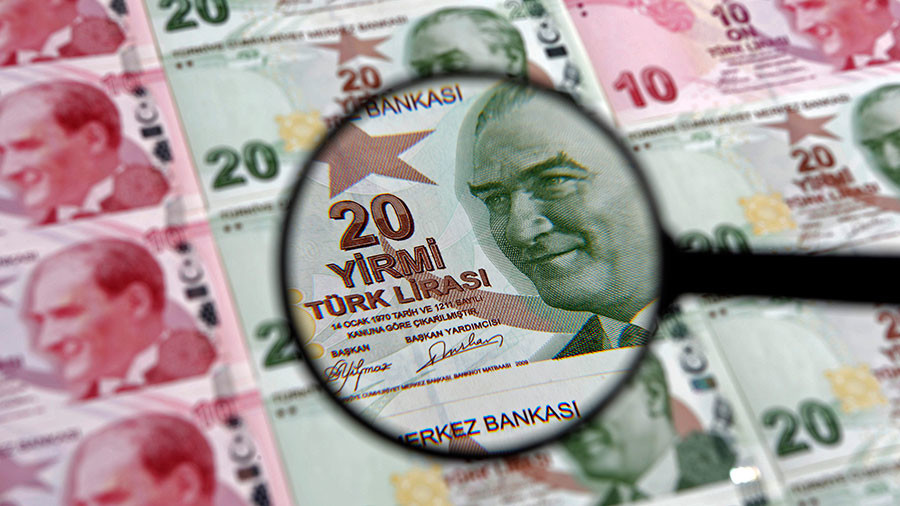 President of Turkey Recep Tayyip Erdogan has announced more state control in the country's fiscal and economic policy. This triggered a further sell-off in the Turkish lira.
Erdogan announced the measures in a recent interview with Bloomberg. They will come after the presidential election in July, which will end Turkey's transition to a presidential republic and is set to consolidate Erdogan's political power.
While the central bank will remain independent, the president will have more control over its decisions, Erdogan announced. "I will take the responsibility as the indisputable head of the executive in respect of the steps to be taken and decisions on these issues," he said in the interview broadcast Tuesday.
Erdogan's words sent the lira to a fresh record low of 4.3990 against the dollar. The Turkish currency has slid 13 percent this year. Yields on 10-year government bonds have surged to the highest level in eight years.
Last week, Erdogan criticized the work of the central bank, which has increased interest rates to 13.5 percent from 12.75 percent. "If my people say continue on this path in the elections, I say I will emerge with victory in the fight against this curse of interest rates. Because my belief is: interest rates are the mother and father of all evil," he said in a meeting with Turkish businessmen.
According to Erdogan, the president is the one people blame for weak monetary policy, and he wants to make sure that he is seen as a president with a strong arm in economics.
"They will hold the president accountable. Since they will ask the president about it, we have to give off the image of a president who is effective in monetary policies," he said.
"This may make some uncomfortable. But we have to do it. Because it's those who rule the state who are accountable to the citizens," he added.
For more stories on economy & finance visit RT's business section