'It's only polite to reciprocate': Beijing slams new US tariffs on $50bn worth of Chinese goods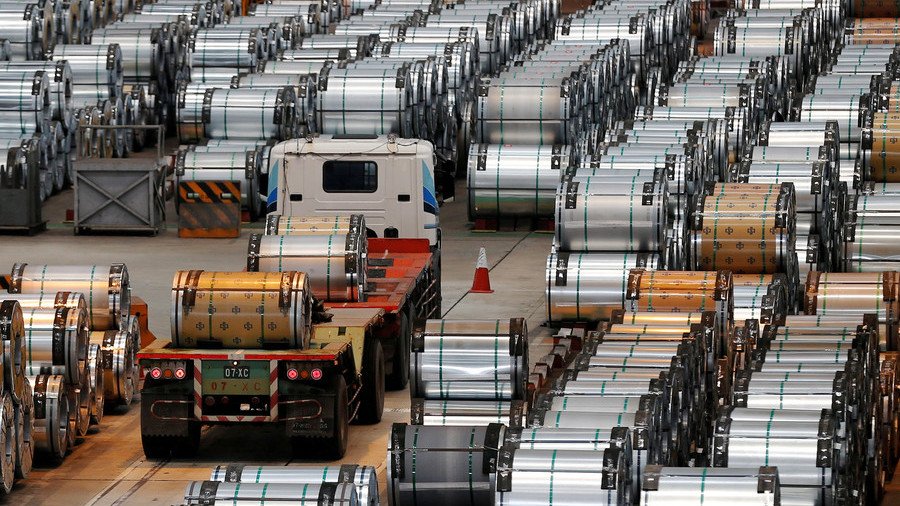 After the US unveiled a preliminary list of imports from China that will be hit by the tariff hikes ordered by President Trump last month, Beijing has vowed to take retaliatory measures of "equal scale and strength."
"The Chinese side strongly condemns and firmly opposes the unfounded Section 301 investigation and the proposed list of products and tariff increases based on the investigation," a Chinese embassy statement said, according to Reuters.
"As the Chinese saying goes, it is only polite to reciprocate. The Chinese side will resort to the [World Trade Organization] dispute settlement mechanism and take corresponding measures of equal scale and strength against US products in accordance with Chinese law."
The Chinese Ministry of Commerce also condemned the US tariff proposals, saying that it is ready to take countermeasures against US imports.
"Disregarding strong representations by China, the United States announced the tariff proposals that are completely unfounded, a typical unilateralist and protectionist practice that China strongly condemns and firmly opposes," the ministry of commerce said Wednesday, according to Xinhua.
While noting that Beijing has the "confidence and ability" to respond to US protectionism, the ministry also vowed to take the dispute to the World Trade Organization (WTO).
"The list of proposed measures recently published by the United States is an intentional and major violation of the basic WTO principles," China's WTO envoy, Zhang Xiangchen, added in a comment posted on Weibo microblog platform, according to Sputnik.
"In the context of these wrong US steps, China is planning to resort to the WTO dispute settlement mechanism," Zhang Xiangchen said. "At the same time we call on all the WTO member states to stand firm against the US trade protectionism along with China."
Earlier on Tuesday the US Trade Representative's office unveiled a list of products which Washington wants to slap with 25% levies, in order to force Beijing to stop what Trump believes to be "unfair" trade practices. The list includes some 1,300 products, ranging from chemicals and diodes to motorcycles and dental devices.
While the Chinese products targeted are mainly non-consumer in nature, the move could still affect the supply chain of many US manufacturers. None of the tariffs will go into effect immediately, but will be introduced after May 22, unless no objections are raised by US companies.
In order to limit potential damage to the American public, the USTR has used a special algorithm that excludes 'sensitive' items, like consumer electronics and clothing, but instead focuses on those products that would inflict maximum harm to Chinese exporters, Trade Representative Robert Lighthizer said. The "final determination" on the list is expected within two months, following a public debate.
Think your friends would be interested? Share this story!
You can share this story on social media: