India slashes Monsanto's GMO seed royalty, says US firm 'free to leave' anytime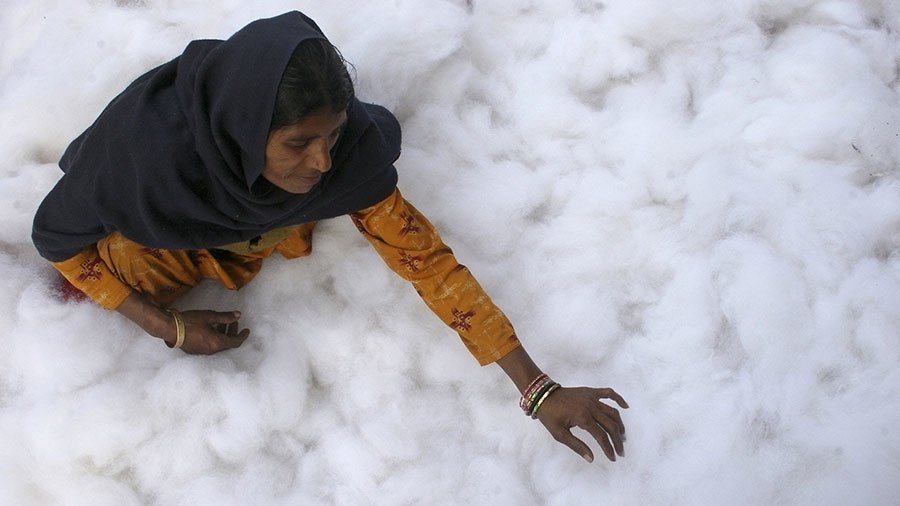 India has cut royalties that local seed companies pay to US agrochemical giant Monsanto for the second time in two years. The producer of genetically modified seeds has previously threatened to pull out of the country.
According to a government order released on Tuesday, the country's farm ministry has decided to reduce royalties paid by Indian seed companies to Monsanto for its genetically modified (GM) cotton by 20.4 percent.
Two years ago, the company's royalties were cut by more than 70 percent. The move triggered a long-running dispute between the Indian and US governments.
"It is unfortunate that today's order further erodes trait fees (royalties), which are now less than 0.5 percent of the cost of cultivation, while the technology continues to provide value to farmers across India," a spokesman for Monsanto's Indian joint venture, Mahyco Monsanto Biotech (MMB), was quoted as saying by the Economic Times.
The official added that cotton has been a success story for Indian agriculture, with a sharp jump in both output and exports, but the sector needs a predictable business environment to attract investment.
The Indian government has also lowered the prices of GM cotton seeds by 7.5 percent to 740 rupees ($11.39) for a packet of 450 grams. It explained the move as providing support for farmers who are struggling with pest infestations.
Last week, the National Seed Association of India (NSAI) threatened to halt supplies to eight million cotton farmers to protest the planned move to reduce seed prices.
"The new, low price would definitely impact seed supply and seed availability this year. And also next year's seed production. NSAI may even file a writ petition against the government decision," Director General of NSAI Kalyan Goswami told Reuters.
According to Goswami, seed prices have fallen since 2011 while fuel, labor and other supply chain costs have risen. "NSAI advocated for an increase in cotton seed prices to at least 150 rupees a packet. But the idea was ignored," he said.
Last year, the Indian government issued an order to control cotton seed prices effective from the 2016-17 crop year. In a ruling, the antitrust regulator, Competition Commission of India, accused the GMO giant of potentially abusing its dominant position on the market. New Delhi said that Monsanto was free to leave the Indian market if it does not want to accept the government-imposed price and royalty cuts for its genetically modified cotton seeds. The American corporation controls some 90 percent of the market, serving over seven million cotton farmers in India.
For more stories on economy & finance visit RT's business section
You can share this story on social media: