Sanctions anyone? US receives Russian LNG shipment, 2nd tanker reported on its way (VIDEO)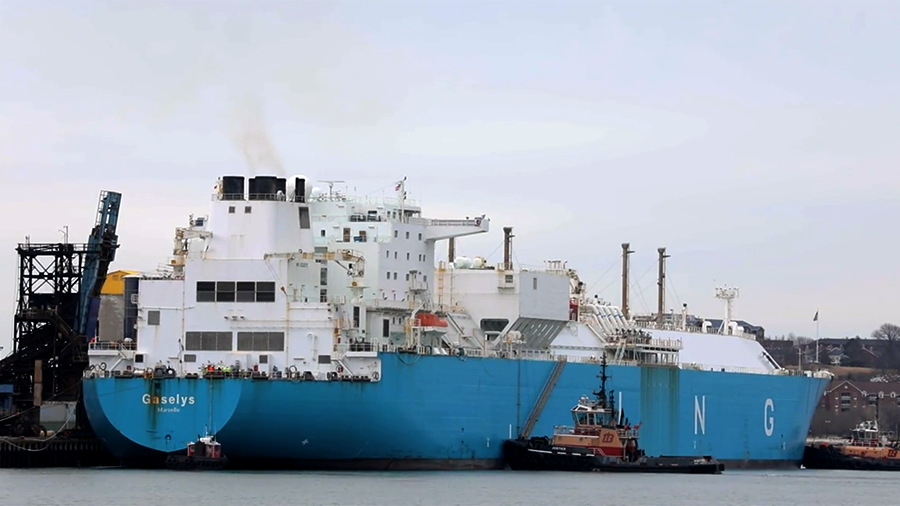 A French vessel carrying Russian liquefied natural gas docked in Boston on Sunday. Another tanker is reportedly on its way, despite Washington's sanctions against Moscow and amid grand plans of conquering Europe's gas market.
The tanker named Gaselys, owned by French energy company Engie, arrived in Boston on Sunday morning, the US Coast Guard confirmed to Sputnik.
"As far as I know, there are no problems," a spokesman said. The vessel is loaded with gas originating from Russia's Yamal LNG plant at the British port of Isle of Grain from which it headed to Everett, an American terminal near Boston.
The US sanctions, imposed in particular against Russia's largest non-state gas producer Novatek – which happens to be Yamal LNG's main shareholder – do not seem to be hindering business in this case. France's Total, China National Petroleum Corporation and the Silk Road Fund hold the remaining 49.9 percent of shares in the project, located in the Russian Arctic.
Technically, the cargo is not subject to sanctions imposed by the US on key stakeholders in the Russian energy sector since the gas was bought by the French company and delivered on a French vessel.
The delivery was however bogged down with delays, arriving eight days late due to unfavorable sailing conditions. A day before its scheduled arrival on January 20, the tanker briefly turned east towards the Spanish port of Algeciras, sparking speculations of a last-minute route change. However, a spokesman for Engie explained the deviation from the original route was caused by bad weather, noting that the delivery time will be adjusted.
Meanwhile, it was reported that a second tanker named Provalys will deliver another shipment of Russian gas from the French port of Dunkirk to New England. The tanker is due to arrive on February, 15, according to Bloomberg.
Washington has long been eyeing the lucrative European energy market, offering its shale LNG as an alternative to Russian natural gas supplies through pipelines, and persuading its allies that Europe's future depends on it.
Moscow in turn has been accusing Washington of stamping out competition by strangling major Russian energy projects with sanctions. Russian Foreign Minister Sergey Lavrov said in January that the US "clearly forced [the] Europeans to abandon Nord Stream 2," a pipeline that would provide Germany with cheaper Russian gas.
"The United States opposes the Nord Stream 2 pipeline. We see it as undermining Europe's overall energy security and stability," US Secretary of State Rex Tillerson reiterated on a visit to Poland on Saturday.
Tillerson's statement reflects President Donald Trump's "America First" policy and makes perfect sense "in the context of the US sanctions against Russia," Matthias Dornfeldt, a German expert on energy issues, told RT.
"The pure interest of the US is to sell their gas in order to bring up its own gas industry with a lot of employment," Dornfeldt said. "That is why they try to play it in some kind of political way, but it is in the economic interests of the US."
"We already reached energy security," the German energy expert said, arguing that Europeans have many options for where to buy their gas, including Norway, Algeria and other OPEC and Central Asian countries. "It is only the question: Who has the biggest share in the market?"
In the meantime the US doesn't mind undermining its own energy security, since business is business, and the severe cold snap that hit the US East Coast caused demand to soar and drove gas prices to a staggering $6,300 per a thousand cubic meters, making foreign gas deliveries a feasible option.
Like this story? Share it with a friend!
You can share this story on social media: