Arrested Saudi prince's business empire apparently collapsing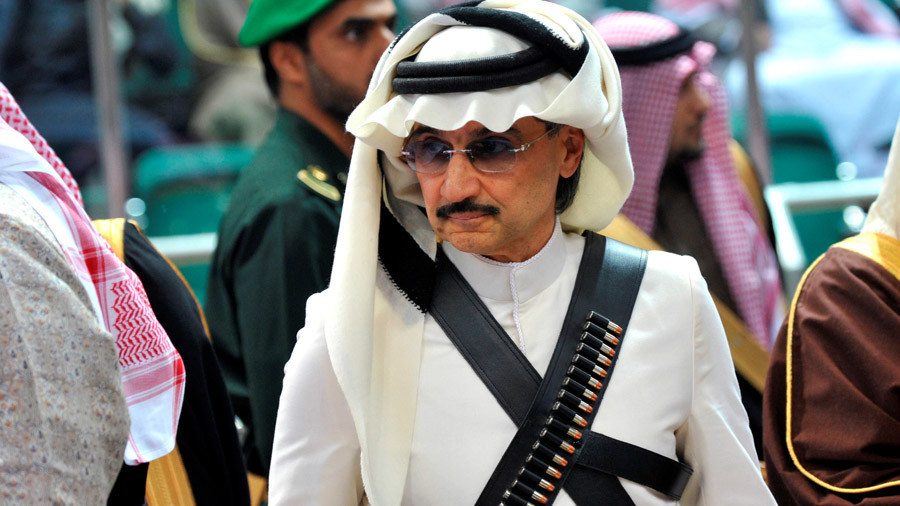 The Kingdom Holding Company, founded by Prince Alwaleed bin Talal, has lost nearly a fifth of its value since its billionaire owner was detained last month as part of a Saudi nationwide anti-corruption campaign.
According to Forbes, the value of the Riyadh-based conglomerate fell $8.5 billion, shrinking the tycoon's net worth by two billion dollars to $16 billion. Prince Alwaleed reportedly owns 95 percent of Kingdom Holding.
The company has more than $12.5 billion under management globally and "enjoys a solid financial position underpinned by a prudent and conservative funding plan," according to the chief executive Talal Al Maiman.
However, any meaningful activity by the corporation has been halted in Alwaleed's absence, according to unnamed Saudi bankers, as quoted by the FT. Local and international banks are so concerned over the arrest that they reportedly put on hold one billion dollars in loans to fund the acquisition of a 16 percent stake in Saudi Fransi Bank from Credit Agricole, planned by KHC.
"One must assume that he will be deal-making for his future. But in a broader sense, he is done now," one Saudi banker said as quoted by the media.
Prince Alwaleed bin Talal, who is presently the 64th richest person on the planet, is one of the most prominent of the 200 princes, ministers and businessmen detained in Riyadh's Ritz-Carlton hotel. Most of the arrested reportedly agreed to exchange some of their assets for their freedom.
In the crackdown, Saudi authorities are reportedly planning to secure up to $100 billion, which is equal to the kingdom's national debt. Earlier, media reported Saudi officials offered the arrested royals a deal to pay up to 70 percent of their wealth to go free.
You can share this story on social media: