World's top jeweler reveals growing appetite for gold in China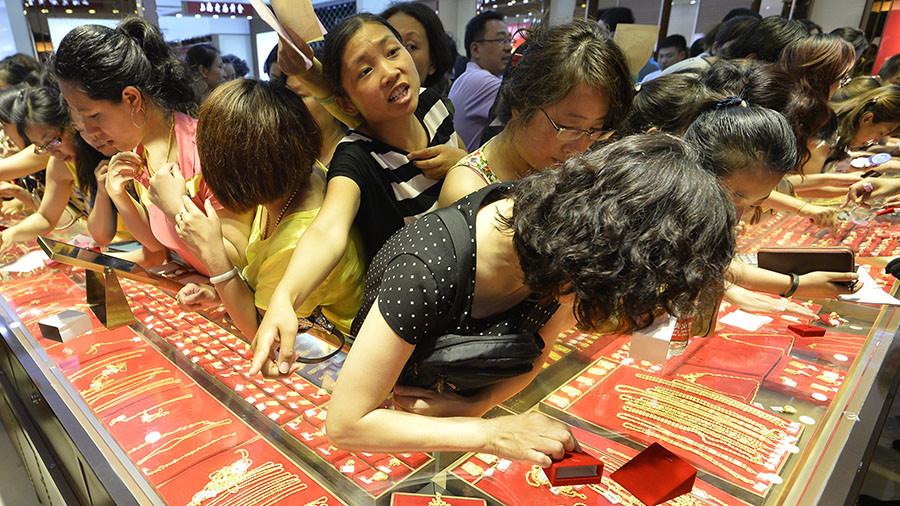 Increasing demand from Chinese consumers for gold products has significantly lifted first-half profits of Chow Tai Fook, the world's leading jewelry retailer.
The Hong Kong jeweler has reported a 46 percent rise for the six months through September with net profit up to HK$1.78 billion ($227.89 million), up from HK$1.22 billion a year ago. It is the best first-half result since 2015. Revenue jumped 15 percent to HK$24.8 billion ($3.17 billion).
The retailer boosted same-store sales in mainland China by 10.3 percent, while in Hong Kong and Macau it grew 9.5 percent.
"The current financial year will be a turning point for our business given the nascent jewelry market recovery. Although the recovery is gradual and mild, the industry is expected to return to a stable yet sustainable growth," the company said, as quoted by Bloomberg.
The increase was reportedly triggered by improved consumer sentiment that encouraged demand for luxury goods in China following a prolonged slump. In October, the consumer confidence index in China reached 123.90, according to data from Trading Economics. The index averaged 109.49 from 1991 until 2017, reaching an all-time high of 124.60 in August of 1993 and a record low of 97 in November of 2011.
Demand for valuable items, including jewelry and watches, has been growing this year with sales in Hong Kong up 4.3 percent through September against a 17 percent plunge in all of 2016.
In September, Chow Tai Fook increased the number of outlets in mainland China to 2,358 with more stores to be opened shortly due to the opportunities for the development of shopping malls in the region.
The jeweler's shares rose 48 percent in 2017, compared to the 36 percent gain in the benchmark Hang Seng Index. The company declared an interim dividend of HK$0.12 per share, putting the dividend payout ratio at 67.4 percent in the first half.