Monsanto sued by Brazilian soybean farmers over GMO seed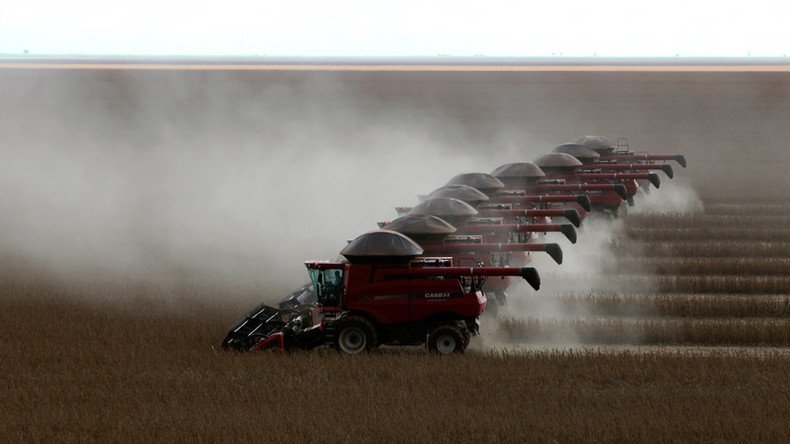 Growers in Brazil's largest soybean producing state Mato Grosso have asked a court to cancel Monsanto's Intacta GMO seed patent. They claim irregularities, including the company's alleged failure to prove it brings de facto technological innovation.
The Mato Grosso branch of Aprosoja, the association representing the growers, has filed a lawsuit in a federal court in Brasilia. The growers claim Monsanto's Intacta RR2 PRO patent "does not fully reveal the invention so as to allow, at the end of the exclusivity period, for any person to freely have access to it."
That requirement "avoids that a company controls a technology for an undetermined period of time," Aprosoja said, adding Intacta's patent protection extends through October 2022.
It cited data from consultancy Agroconsult, saying that about 53 percent of Brazil's soy area was planted with Intacta technology in the 2016/17 crop cycle. Around 40 percent of the crop is grown with Monsanto's Roundup Ready seed technology (Intacta's predecessor), and only seven percent is non-GM.
Brazilian farmers have been continually urging the replacement of genetically modified soybeans with non-GM seeds. Recently they asked Monsanto and other producers of pest-resistant corn seeds to reimburse them for money spent on additional pesticides when the bugs killed the crops instead of dying.
READ MORE: Russia looks to become leading organic food exporter as Europe sees future in GMO
Several years ago five million Brazilian soybean farmers sued Monsanto, claiming the genetic-engineering company was collecting royalties on crops it unfairly claims as its own. In 2012, the Brazilian court ruled in favor of the Brazilian farmers, saying Monsanto owes them at least $2 billion since 2004.
After the legal disputes, Monsanto stopped collecting royalties linked to its first-generation Roundup Ready technology, and some farmers agreed to get a discount rate to use Intacta seeds.
Biotech crops are genetically engineered to resist pests or disease, tolerate drought or withstand the spraying of weedkillers like glyphosate, the active ingredient in Monsanto's Roundup herbicide.
In the US, the herbicide has been considered safe since 2013, when Monsanto received approval from the US Environmental Protection Agency (EPA) for increased tolerance levels for glyphosate. However recently, the World Health Organization ruled it's a carcinogen which along with other Monsanto chemicals could cause Parkinson's disease, Alzheimer's disease, autism, and cancer.
100% Cotton. Made in India: Farmers commit suicide after planting GMO cotton (WATCH MORE)
You can share this story on social media: