Catalonia independence supporters call on public to pull cash from Spanish banks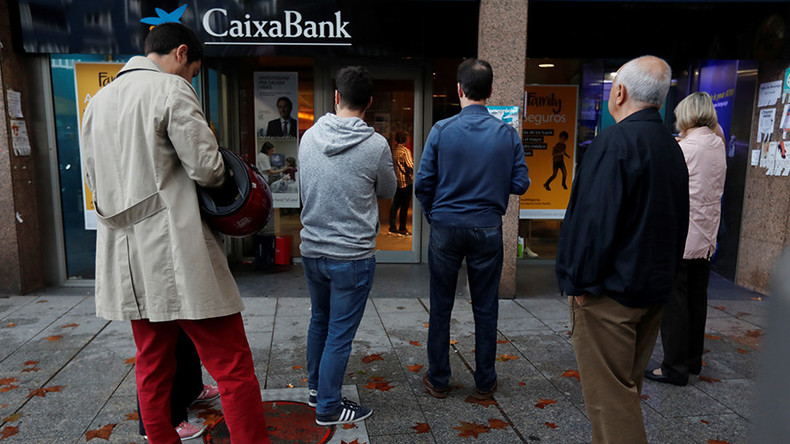 The pro-independence Catalan National Assembly has urged Catalans who back the region's independence to withdraw money from five banks, including those that moved their headquarters out of Catalonia.
The group posted a tweet calling on its 270,000 followers to pull deposits from CaixaBank and Banco Sabadell branches between 8am and 9am on Friday to express their indignation over the lenders' decision to shift their legal headquarters out of the region.
Demà, prioritàriament de 8 a 9 h, ves a un dels 5 principals bancs i retira la quantitat que vulguis en efectiu. Són els teus diners! pic.twitter.com/TqQUESFOZJ

— Assemblea Nacional (@assemblea) October 19, 2017
"Go to one of the five principal banks and take out as much cash as you want. Don't forget, it's your money," said the tweeted message that had been retweeted or liked more than 10,000 times by 12:31 GMT.
The act targets Spain's main financial institutions, including CaixaBank, Sabadell, Bankia, BBVA, and Santander.
Dozens of customers were lining up at a Caixa branch in downtown Barcelona to withdraw symbolic sums of up to €160 from the ATMs.
"I'm here to protest - it's a symbolic amount. I've banked with CaixaBank for years, and I'm surprised to see them withdraw from Catalonia at a time like this," said Eva Marti, a public worker as cited by Bloomberg.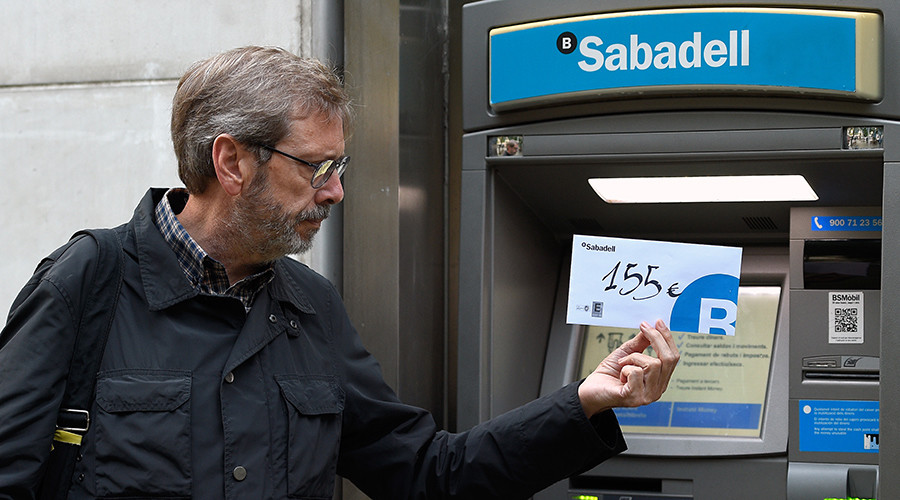 "These banks are traitors. They need to see that it's lots of us who are angry," said Oriol Mauri, an owner of a children's game business in central Barcelona, as quoted by Hong Kong's broadcaster RTHK.
CaixaBank and Banco Sabadell, the largest Catalonian banks, led the corporate exodus from the region told Bloomberg that business was normal.
According to Spanish Economy Minister Luis de Guindos, the banks that moved their official registration out of the region saw deposits swell in recent days.