Massive job losses at bankrupt Air Berlin as carrier to end flights this month
Published time: 9 Oct, 2017 13:52
Edited time: 9 Oct, 2017 14:04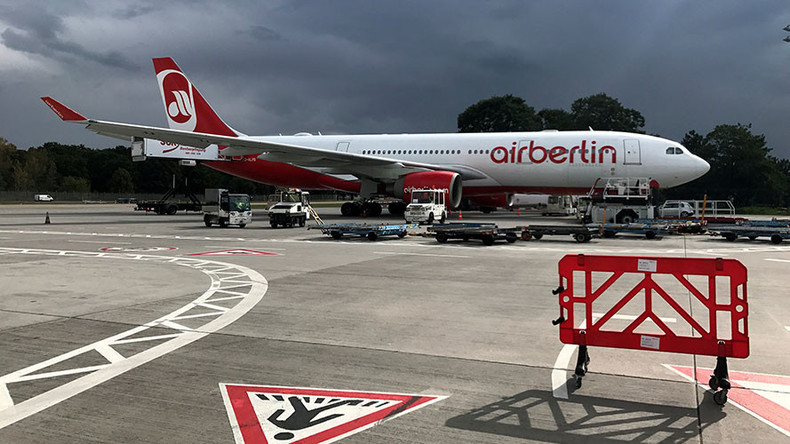 Germany's second largest airline, Air Berlin, which has long battled for survival could soon cut around 1400 workers, according to a union paper seen by AFP. Some of them may be out of a job as early as the end of the month.
The document said many of the cuts would hit the insolvent airline's ground personnel and administration staff, whose contracts could end by the end of the month or in February 2018.
Air Berlin employs about 8,600 people, including part-timers, and flights will end on October 28 at the latest. Subsidiary Niki, which flies to tourist destinations and regional airline LG Walter will continue to operate.
The media reported on Monday that talks between Air Berlin and easyJet over the sale of up to 30 planes are at risk of falling apart as the British airline had reduced its offer of around €50 million.
Negotiations with easyJet and Lufthansa, which is the leading bidder for Air Berlin's assets, are due to conclude on October 12.
The German carrier announced a major restructuring plan last year to shrink its fleet and cut over a thousand jobs. It booked losses of €1.2 billion over the past two years, making the company rely on cash infusions from principal shareholder Etihad.
In August, the airline filed for insolvency proceedings after Etihad Airways, which holds a 29.2 percent stake in Air Berlin, said the development was "extremely disappointing" but that it could no longer justify further funding.
The struggling company has also been provided with a €150 million loan by the German government.
Over the past six months, three major low-cost European carriers have filed for bankruptcy.
One of the oldest UK airlines' Monarch ceased operations last week, after canceling over 300,000 bookings.
Alitalia, in which Etihad holds a 49 percent stake, went into administration in May after employees refused to accept job and salary cuts as part of a new rescue plan.