EU pivots east as free trade deal with US stalls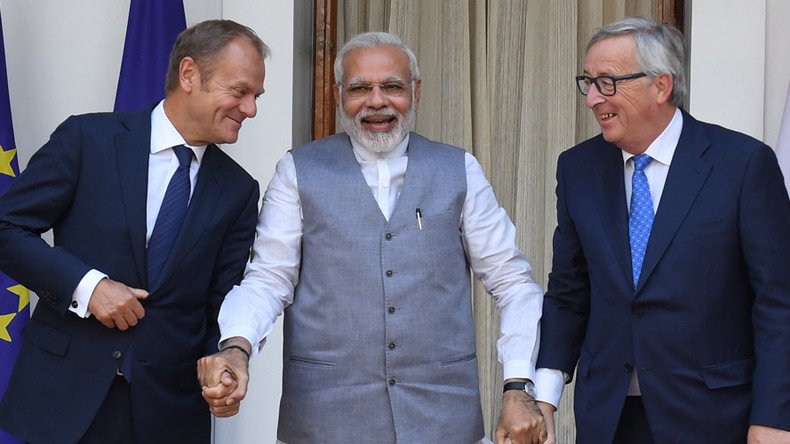 Officials from Brussels have given their support to sealing a free trade deal with one of the world's fastest-growing economies at the14th EU-India Summit in New Delhi.
"Working together with India, a like-minded partner simply makes sense. It is natural. And this is becoming truer when it comes to trade. Every year we exchange €100 billion worth of goods and services, creating millions of jobs both in India and in the European Union," the President of the European Commission Jean-Claude Juncker said at a news conference with Indian Prime Minister Narendra Modi.
Both sides also agreed to strengthen security links. The summit marks the 55th anniversary since the establishing of diplomatic relations between the EU and India.
The president added that visible trade is almost perfectly balanced with exports and imports nearly equal on both sides.
The EU was India's largest regional trading partner exporting €39.3 billion worth of goods to the bloc last year. India reportedly imported goods worth €37.8 billion in 2016. The 28-nation bloc is a principal source of investment and technology in the country.
EU investment in Indian stocks was worth €51.2 billion in 2015, an increase from €44.2 billion the previous year.
Negotiations on the proposed EU-India Broad-based Trade and Investment Agreement (BTIA) started in 2007. However, they have repeatedly failed to reach an agreement on the deal, facing significant spats on such issues as intellectual property rights, and duty cuts in automobile and alcohol production.
Talks with India resumed after the negotiations between Brussels and Washington on the Transatlantic Trade and Investment Partnership (TTIP) stalled after Donald Trump's election as US president. Trump also withdrew the US from the Trans Pacific Partnership agreement with Asian countries amid the president's concerns multilateral trade deals are not profitable for the US.
You can share this story on social media: