It's the economy, stupid – why Angela Merkel will probably win again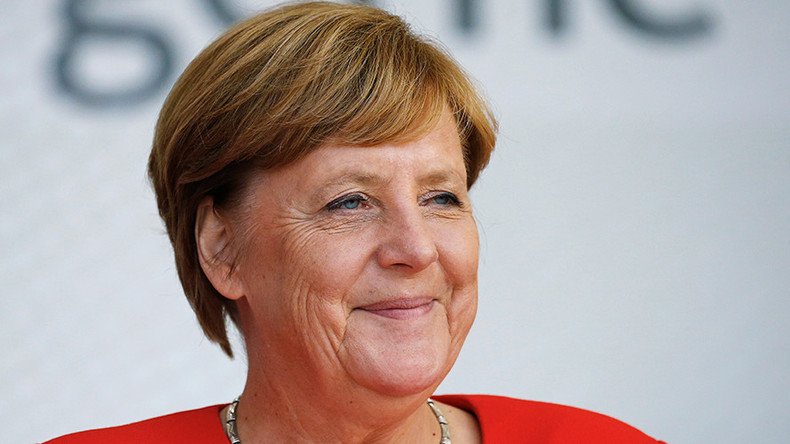 The phrase coined 25 years ago by Bill Clinton's campaign manager James Carville might well explain why Angela Merkel looks poised to extend her term as German chancellor on September 24.
Since taking the helm of one of the world's largest economies in 2005, Merkel's political ideology has often clashed with domestic business interests. But the German economy has continued to prosper and persevere, giving the chancellor the support of the electorate.
Following years of anti-nuclear protests and the Fukushima accident in 2011, Merkel's government announced a nuclear power phase-out in the country. Germany has permanently shut down eight of its 17 reactors and pledged to close the rest by 2022.
Large corporations running the country's nuclear power plants lost billions in a move to renewable energy and were forced to scramble to save employees' jobs. But the decision was widely supported by the German public who were unsympathetic to large utilities in the wake of Fukushima.
"It is hard to understand for people outside Germany, that German politics is not driven by rationale, but by what they call morale. You see that when looking at the energy sector. Is it rational to shut down all atomic power plants and moving the energy sector fully toward green energy, making energy not competitive anymore? Markel's politics is not driven by facts and rationale, it is following public opinions waves, made by left-wing journalists," former CDU politician Maximilian Krah told RT.
Merkel takes on country's biggest employer & exporter
During this election year, Merkel has taken on the German auto industry.
After chiding auto executives over the diesel emissions scandal in August, she hinted that it's only a matter of time before Germany bans the sale of new cars running on gasoline and diesel.
The move has drawn criticism since it could damage an industry that provides 800,000 jobs domestically and exports worth over €400 billion last year.
For a while, it even seemed as though the attacks on the auto industry would threaten to undermine Merkel's support base.
Earlier this month, Bavarian Prime Minister and the leader of Germany's Christian Social Union (CSU), Horst Seehofer laid down conditions for re-entering a coalition with Chancellor Angela Merkel's Christian Democrats after the elections.
Seehofer said he would not join the coalition if the chancellor insists on banning vehicles with internal combustion engines, as it could undermine the car industry. Merkel has hinted Germany should follow the likes of France, Britain, and India in this eco-friendly effort.
"A ban on the combustion engine puts the ax at the root of our prosperity," Seehofer said as quoted by German daily Die Welt.
The move has also raised questions whether politicians should dictate to businesses on how and what they should produce.
"It should be upon free markets to decide about what products should be produced by whom, when and where. Politicians do not have superior knowledge in this regard compared to the combined intelligence of the free market. The chancellor suggesting what firms should produce, or not produce, does not appear to be helpful whatsoever," Thorsten Polleit, an economist from Polleit & Riechert Investment Management told RT.
Sanctions against Russia
Despite protests by German business lobbies, Angela Merkel has actively supported anti-Russian sanctions introduced by the US, the EU and their allies in 2014. She has also supported new rounds of penalties imposed since.
German corporations along with the country's local governments repeatedly expressed grave concerns over the measures, saying that sanctioning Europe's third-largest trading partner was shattering both business confidence and profit-making capabilities.
Since 2012, German exports to Russia have almost halved from €38 billion to around €21.6 billion last year.
Some of the German high-value exporters felt a significant impact on their businesses after the first two rounds of sanctions. The collapsing ruble and inflation inevitably cut consumer spending in Russia, affecting German business in the country.
"It is equally, if not, even more, puzzling why the German chancellor allowed the US to dictate anti-Russian sanctions that mainly hurt German and European businesses, while at the same time US firms step in and, unimpeded by sanctions, take over much business with Russia. This is especially bewildering when one realizes that neither the political nor legal arguments for anti-Russian sanctions make any sense. There is no clear legal basis for the sanctions in international law. There is also no UN mandate," Richard Werner, German economist, and professor at the University of Southampton told RT.
The volume of German exports to Russia in August 2014, five months after the introduction of sanctions, declined 26.3 percent year-on-year, according to the country's federal statistical office.
German sports retailer Adidas notably lowered financial targets in Russia following the decision to impose penalties. The company closed over 50 stores in the market, with more than a hundred to be shut this year.
Europe's largest carmaker, Volkswagen, reported a 12.7 percent drop in annual sales in Russia in 2014. The manufacturer even had to shut one of its Russian factories due to declining sales, while German-based retailer Metro postponed the IPO of its Russian subsidiary Cash & Carry.
In 2015, the Moscow-based German-Russian Foreign Trade Chamber released the results of a survey, which showed that 50 percent of executives were worried Russia might permanently turn away from Europe and toward Asia.
German Federal elections 2017
Ultimately James Carville's words may be proved right once again. It's the economy that will determine the elections. While Angela Merkel has seen her popularity drop by at least ten points, according to an Infratest Dimap opinion poll published in August, her approval rating now stands at 59 percent, which still allows the chancellor to be re-elected.
In terms of business support, German corporations donate mostly for Markel's CDU party and the so-called liberals, which almost entirely follow Merkel, according to Maximilian Krah.
"They (business) fear both a left-wing government under Chancellor Schulz and instability caused by a strong right wing. For them, stability is more important than change, even if they are widely unsatisfied with the status quo."
You can share this story on social media: