Rosneft enters India's energy market acquiring Essar Oil for $13bn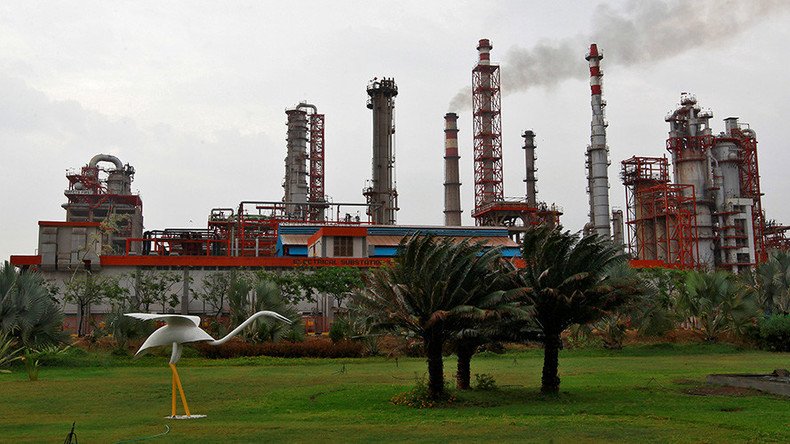 Russia's Rosneft and its partners including Dutch commodity trading house Trafigura have finalized the $12.9 billion purchase of India's second-largest oil refiner Essar Oil. It's the biggest foreign acquisition in the South Asian country.
The deal announced last October gives Rosneft a 49 percent stake in Essar. According to an Essar Group statement, Trafigura and the Russian fund UCP will hold a similar stake in equal parts; retail investors will hold the rest.
"Today is a historic day for Indo-Russian economic ties… I congratulate Rosneft, Trafigura, and UCP for investing in a world-class oil business, which we are proud to have built," said Essar Group Chairman Shashi Ruia.
"The closing of the acquisition enables Rosneft to enter one of the world's fastest growing markets,"said the Russian oil major.
Rosneft and partners will get control of 400,000 barrels per day (bpd) at the Vadinar refinery in western Gujarat. The Russian-led consortium will also get 3,500 retail fuel stations across India.
The deal will give Rosneft access to a market of 1.3 billion people which imports 80 percent of its crude requirements. India is expected to become the fastest growing oil consumer through 2040, according to the International Energy Agency.
READ MORE: Russia-India oil deal challenges Saudi supremacy in Asia
The Essar-Rosneft agreement will also challenge Middle East producers who provide nearly two-thirds of India's imported energy.
Rosneft plans to supply ten million tons of Venezuelan crude to Essar's Vadinar refinery over the next decade. The Russian oil producer and Venezuela's state-owned PDVSA signed a strategic partnership pact last year.
Essar Group will reduce its debt by about $11 billion and shift focus to its struggling steel business.
"This is the single largest deleveraging ever undertaken in Indian corporate history," CEO and Managing Director of Essar Capital, Prashant Ruia told reporters. He added the deal has helped bring down debt by 50 percent.
You can share this story on social media: