Equities fall on rising tension between US & North Korea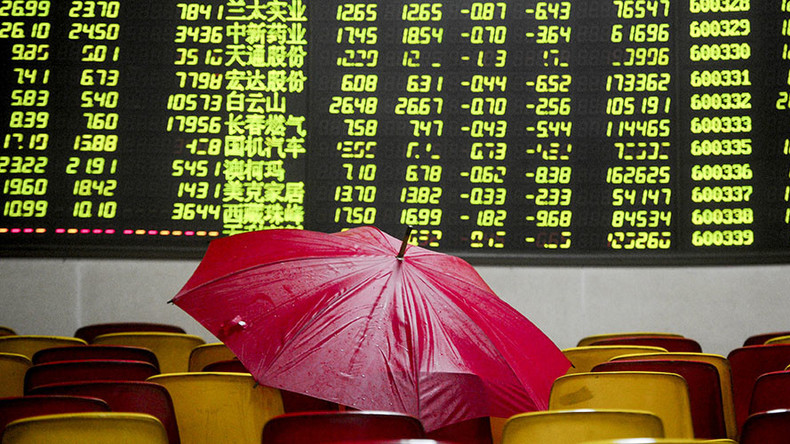 Stock markets around the world continued their downward slide after US President Donald Trump made another verbal attack on North Korea.
Read more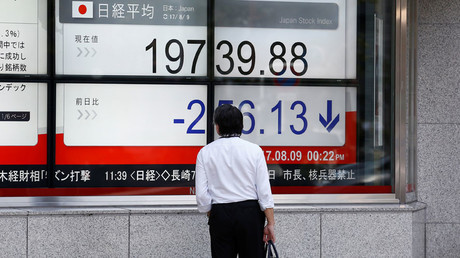 Wall Street closed sharply lower, with Dow Jones down over 200 points on Thursday. The sell-off has extended to the European and Asian sessions on Friday.
In Asia, the Shanghai Composite Index slid 1.63 percent, in Hong Kong the Hang Seng fell over two percent, and Japan's Nikkei finished the trading day 0.05 percent down. South Korea's KOSPI fell 1.8 percent to nearly a three-month low.
In Europe, Britain's FTSE100 was down over one percent, Germany's DAX traded 0.5 percent lower, while the French CAC40 index was 0.62 percent in the red, as of 9:00am GMT.
The Russian dollar-traded index RTS was down 1.49 percent, and ruble-traded MICEX fell 1.29 percent by midday.
"What has changed this time is that the scary threats and war of words between the US and North Korea have intensified to the point that markets can't ignore it," said Shane Oliver, head of investment strategy at AMP Capital in Sydney, as quoted by Reuters.
"Of course it's all come at a time when share markets are due for a correction, so North Korea has provided a perfect trigger," he added.
On Thursday, in response to North Korea's threat to fire missiles at American targets in the Pacific, President Trump said that if Pyongyang "does something in Guam, it will be an event the likes of which nobody has seen before – what will happen in North Korea."
According to ING's chief Asia economist Robert Carnell, the whole situation resembles a new Cuban Missile Crisis.
"While the US President insists on ramping up the war of words, there is a decreasing chance of any diplomatic solution," Carnell said.