Starbucks bets big on China, taking full ownership of stores
Published time: 28 Jul, 2017 09:55
Edited time: 11 Apr, 2018 12:55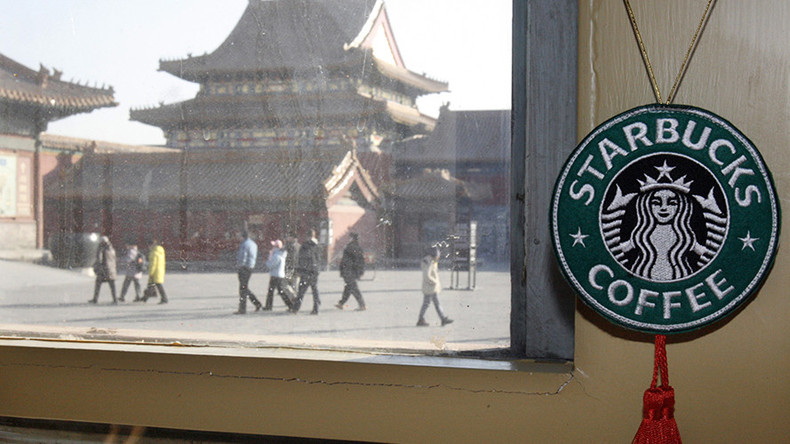 The world's largest coffee chain Starbucks is to take ownership of all its China outlets, after agreeing to buy out its joint venture partner for $1.3 billion. It is the company's biggest acquisition.
Starbucks already has a presence in 130 Chinese cities and fully owns 1,500 outlets in the country.
The deal will give it ownership of about 1,300 stores in Shanghai and Jiangsu and Zhejiang provinces. According to Starbucks CEO Kevin Johnson, it is part of the company's "long game" in its fastest-growing market outside the United States.
"Starbucks' opportunity for growth in China is unparalleled... and we are just getting started," Johnson told Reuters.
The company plans to expand to more than 5,000 outlets in China by 2021. There are nearly 600 Starbucks stores in Shanghai alone, the largest number of any city around the world.
The acquisition announcement comes as the coffee giant's net income fell 8.3 percent to $691.6 million for the third quarter ended July 2, only just matching market expectations.
Starbucks is grappling with softness in US retail as more consumers turn to shopping online or buying from meal kit sellers and convenience stores.
Same-store sales in the US rose by five percent last quarter while in China there was seven percent growth.
Executives cut Starbucks' full-year net earnings per share target to a range of $1.96 to $1.97 from a previously lowered forecast of $2.06 to $2.10.
Starbucks also announced plans to close all 379 of its Teavana tea stores by the middle of next year because they had been "persistently underperforming." It will continue selling Teavana branded products in its Starbucks stores. Starbucks acquired tea company Teavana in 2012 for $620 million.