India & Israel ink $4.3bn worth of deals, push for closer economic ties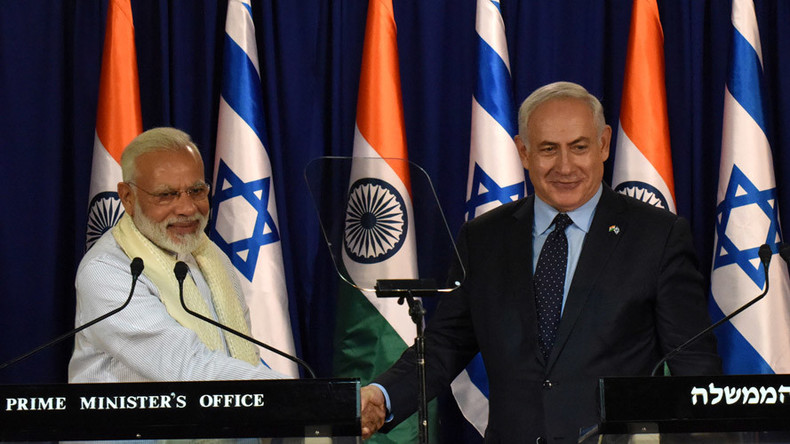 A range of strategic pacts envisaging investments worth $4.3 billion were agreed between Indian and Israeli companies on Thursday as part of Narendra Modi's historic three-day visit to Israel.
Modi became the first Indian prime minister to visit Israel in the last 70 years.
The sides decided to create a joint technology innovation fund worth $40 million for research in industrial development. The Indian Ministry of External Affairs has announced several agreements with Israel on science, agriculture and technology.
According to a joint statement, the two countries will focus on the development of defense products that include the transfer of technology from Israel, with an emphasis on Modi's signature 'Make in India' initiative. Earlier this year, Israeli companies signed arms deals with India totaling over $2.6 billion.
"We have identified great business opportunities for Israeli companies in India in sectors such as transport infrastructure, including roads, railways, civil aviation and traffic management systems, smart cities, renewable energies, water and environment, automotive, food, naval and aerospace industries and defense," Shraga Brosh, co-chair of the India-Israeli CEO forum, was cited as saying by Reuters.
Bilateral trade is expected to surge from the current $4-5 billion to $20 billion in five years, the statement said.
Businesses asked for longer-term multiple-entry visas, changes in rules for investors, an opening up of the agriculture sector for tie-ups, and increased knowledge transfer.
READ MORE: Russia to sign deal on S-400 shipment to India – Putin aide
Closer ties could lead to more investments from both countries, according to Richard Rossow, senior adviser and Wadhwani Chair in US-India Policy Studies at CSIS.
"India's good at large-scale things, like call centers and software development, but Israel's doing package software," he told CNBC.
"India's doing back-office biotech research, but Israel actually has products that are out there in the global markets more than India does.
"So it could be Israeli companies looking for a larger production base, in which case India's ready to go," Rossow added.