Siemens denies shipping turbines to Crimea, launches probe into reports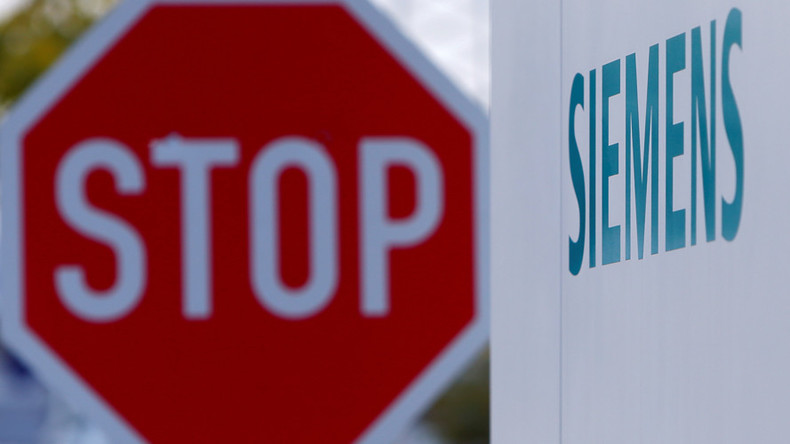 German industrial conglomerate Siemens said it did not supply its turbines to a Russian firm building power plants in Crimea. The company has set up a task force to investigate reports on the issue.
"We have no credible evidence about actual deliveries of our turbines to Crimea. However, we are taking these rumors seriously and have put in place a task force team to investigate the matter that is working diligently to clarify the facts," the company said, as quoted by Reuters.
Earlier this week, various media reports emerged that Russia had delivered turbines made by the German company to Crimea, despite the region being under EU sanctions which bar firms from supplying it with energy technology.
"If there were any re-routings of recently purchased turbines to Crimea, it would constitute a clear violation of contractual agreements. Siemens has repeatedly alerted its customers that Siemens complies with all export control restrictions," Siemens said.
The United States and the European Union banned their corporations from working in Crimea as part of anti-Russian sanctions introduced after the peninsula voted to reunite with Russia in a referendum in March 2014.
Russian state-run company Technopromexport, which is involved in the project to construct power plants in Crimea, told Reuters on Thursday it had purchased four electricity turbines on the secondary market.
However, the firm did not specify whether the turbines were produced by Siemens. Technopromexport also did not name the company it bought them from.
The company, affiliated with state conglomerate Rostec, is currently building power stations in Sevastopol and Simferopol.
Russia also launched a power bridge from the mainland to the peninsula to ensure a stable power supply to the region after its reunification with Russia in 2014.
The steps were taken following a state of emergency declared in the peninsula in November 2015, as four Ukrainian power lines providing electricity to the peninsula were blown up, leaving Crimea in a total blackout.
You can share this story on social media: