United States wants to sell coal to coal-rich Ukraine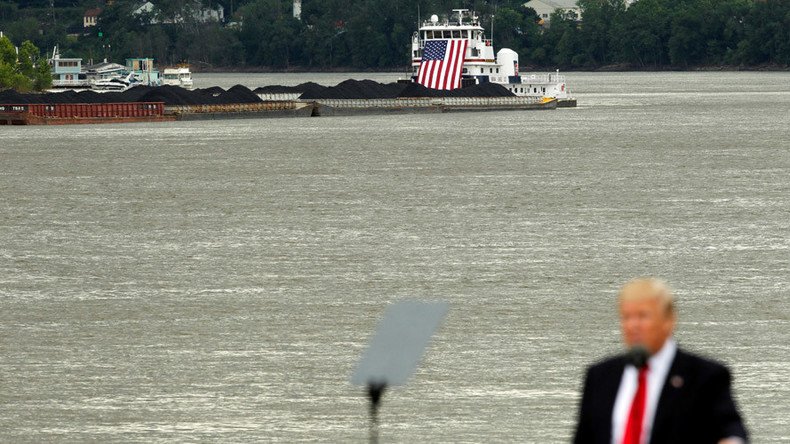 President Donald Trump has vowed to unleash the 'vast energy wealth' of the United States. He wants to sell American coal to Ukraine, which faces a shortage as military conflict tears its coal-rich Donbass region apart.
Coal exports to Ukraine "will have more to do with keeping our allies free and building their confidence in us than anything I've seen," said Energy Secretary Rick Perry.
Ukraine stopped buying coal from the breakaway Donbass region this spring after Kiev-backed militant groups blocked railways to the region in the east. This led to a massive disruption of the work of plants using anthracite coal.
Kiev had alternatives to buy anthracite in Russia, South Africa or the United States. Coal from Russia was dumped for political reasons, while import of South African coal turned out to be too expensive.
"Ukraine already tells us they need millions and millions of metric tons (of coal). Right now, there are many other places that need it too, and we want to sell it to them and to everyone else all over the globe who need it," said Trump at an event at the Department of Energy attended by oil and coal executives and union members who build pipelines.
In the run-up to the election and during his presidency, Trump has promised to put American coal miners back to work. Trump said he is lifting an Obama-era policy of curbing US coal production, as he seeks American "energy dominance."
"We are a top producer of petroleum and the No. 1 producer of natural gas. We have so much more than we ever thought possible. We are really in the driver's seat," he said.
Besides increased oil and coal exports, Trump wants to boost US LNG exports to Asia. The administration has been negotiating LNG supplies to South Korea, Trump noted.
You can share this story on social media: