Record price for Kandinsky painting broken twice as masterpiece fetches $42mn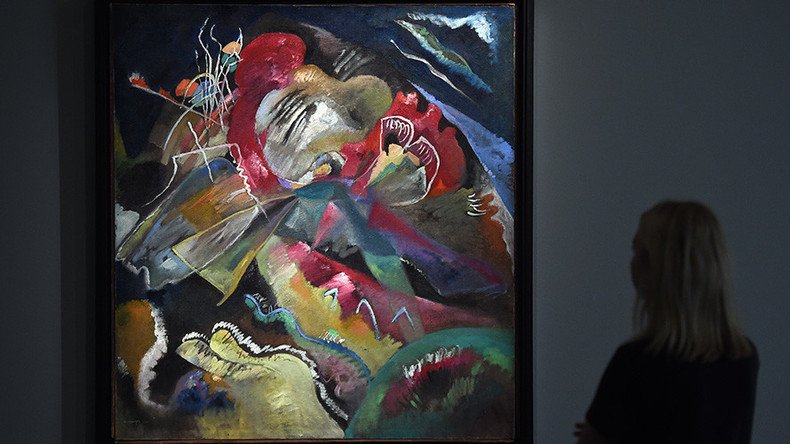 A 1913 painting by a Russian master Wassily Kandinsky sold for £33 million ($41.6 million) at Sotheby's Impressionist and Modern art auction in London. The record price for a work by Kandinsky was broken twice in less than an hour.
The bidding for "Bild mit weissen linien" (Painting with white lines) which is one of the largest and most colorful works by the artist opened at £23 million.
After 13 minutes the oil painting was sold to Hugo Nathan co-founder of Beaumont Nathan art advisory based in London.
The painting remained in Russia until 1974 when Cologne collector William Hack acquired it from the Tretyakov State Gallery in Moscow. His descendants put the artwork up for sale.
The sum was the second auction record for Kandinsky at the Sotheby's sale. Only six lots earlier, the 1909 oil on board "Murnau - landschaft mit grünem haus" (Murnau - landscape with a green house) sold at $26.4 million (£18.5 million) against an estimate of $19 million - $31 million (£15 million-25 million).
The work which was a result of Kandinsky's stay in the Bavarian Alps in the summer of 1908, and was first shown at the Royal Albert Hall in London in 1910. It has been in the private collection of the same family since the 1920s.
In 1937 Kandinsky wrote about the impact of the Murnau landscapes that were still in his collection: "the colors have to this day remained completely fresh… as though they are still wet. It was not without good reason that I concerned myself so very much with technical matters."
You can share this story on social media: