Most refugees to stay jobless for years – German minister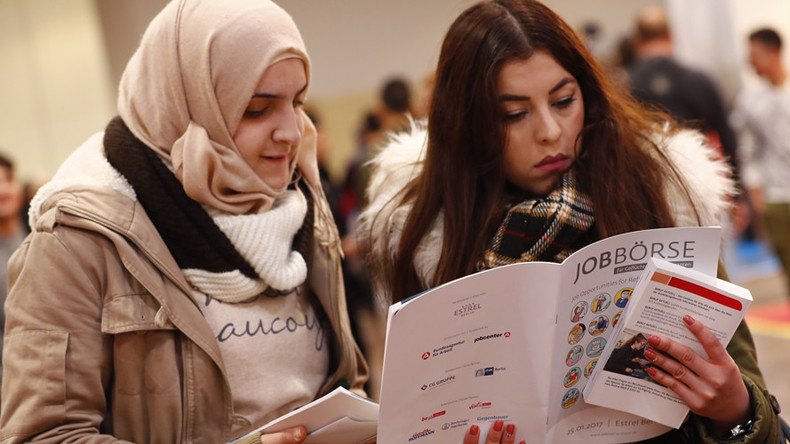 Up to three-quarters of refugees in Germany will still be unemployed in five years' time, according to the country's commissioner for refugee integration Aydan Ozoguz.
She told the Financial Times that Germany faces challenges in integrating its enormous migrant population.
According to Ozoguz, only a quarter to a third of the newcomers would enter the labor market over the next five years, and "for many others, we will need up to ten."
Initially the influx of many working-age, highly-motivated immigrants spurred optimism that they would mitigate Germany's acute skills shortage. The CEO of carmaker Daimler Dieter Zetsche even said the refugees could lay the foundation for the "next German economic miracle."
However, according to Ozoguz, time showed the migrants' lack of qualifications and language skills.
"There has been a shift in perceptions," she said.
Many of the first Syrian refugees to arrive in Germany were doctors and engineers, but they were followed by "many, many more who lacked skills."
According to a report by the Institute for Employment Research (IAB), only 45 percent of Syrian refugees in Germany have a school-leaving certificate and 23 percent a college degree.
Statistics from the Federal Labor Agency showed the employment rate among refugees stands at just 17 percent. The agency said 484,000 of the refugees are searching for work compared with 322,000 last July.
Ozoguz said the authorities' top priority was not to find employment for the refugees as soon as possible but to ensure they learned German and had access to training to acquire the skills needed for an advanced industrial economy.
"In the past, we put people very quickly into jobs where they didn't need to speak, and 40 years later people asked them — how come you still can't speak German?" she said.
"We don't want to repeat that mistake."
German Chancellor Angela Merkel who is seeking a fourth term in Bundestag elections this September has been widely criticized for her 'open-door' policy to those fleeing war and persecution.
Around 1.3 million migrants have arrived in Germany since the start of 2015.
You can share this story on social media: