Russia-China trade to hit $80bn by 2018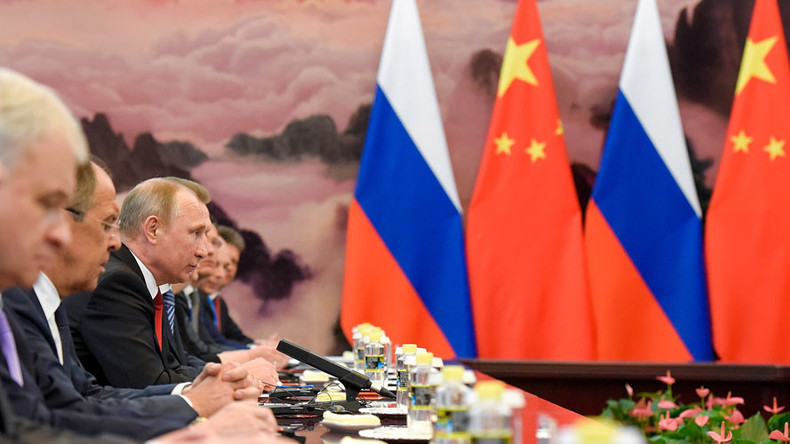 Trade between China and Russia is growing and will reach $80 billion by the end of the year, Chinese Commerce Ministry spokesman Shen Danyang told TASS on the sidelines of the 'One Belt, One Road' forum in Beijing.
Russian President Vladimir Putin is participating in the forum dedicated to regional integration and cooperation between Asian countries. He arrived in Beijing on Sunday at the invitation of Chinese President Xi Jinping.
According to the Russian president, the creation of a belt of economic development and trade between Asia and Europe is an urgent and important initiative that takes into account the trends in the world economy.
Asked if there's a risk the Chinese economy could swallow Russia, President Putin said Russia is not a fearful country, adding that this is not China's strategy. The Russian president stressed that Moscow would only sign agreements with Beijing which are mutually beneficial.
The Chinese spokesman said that "in the first four months of this year, Russian-Chinese trade grew at a very fast pace and its turnover increased by 26 percent to almost $25 billion."
He added that "Russian exports to China rose by 33 percent in January-April while deliveries of Chinese goods to Russia expanded by 22 percent."
The official also said food exports from Russia to China are growing at the quickening pace. "Due to the fall of world prices, China has also started to build up the imports of energy products from Russia," he added.
In 2016, trade between Russia and China grew by 2.2 percent to $69.5 billion. In the first four months of this year, bilateral trade totaled to $24.73 billion.
Earlier, Russian Prime Minister Dmitry Medvedev said Moscow and Beijing would make additional efforts to increase bilateral trade to $200 billion in next 3-7 years. He said preferential trade rules between the countries are being considered, which would increase the use of national currencies in settlements.
The sides also plan a joint Russia-China Venture Fund to develop trade, economic investment, and scientific cooperation between the countries.
You can share this story on social media: