Saudi Arabia pushes for solar energy project to create thousands of jobs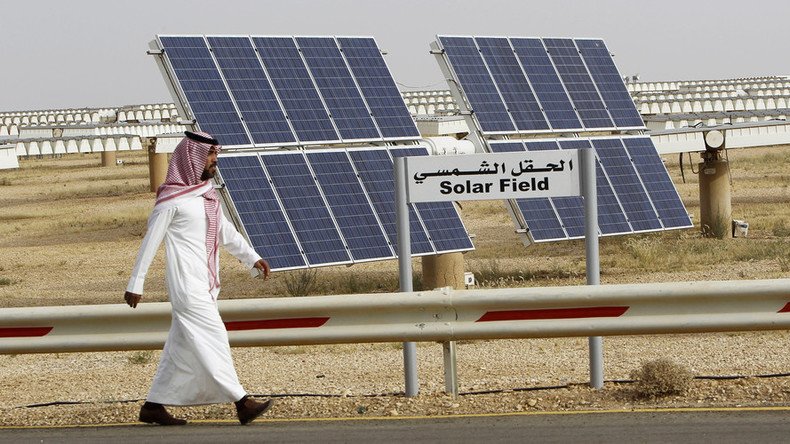 In a push to reshape its oil-dependent economy, Saudi Arabia is hoping a new solar power program will generate about 7,000 jobs by 2020 and build a local manufacturing industry.
According to the country's Ministry of Energy and Natural Resources, bidders who want to build about 3.45 gigawatts of solar and wind plants over the next three years, will be required to spend 30 percent of the capital they invest using the domestic workforce and companies.
"We want to create value," Saudi Arabia's head of the renewable project development office Turki al-Shehri told Bloomberg in an interview. "We don't just want to bring in companies that open up manufacturing facilities at a very high premium, which the consumer will end up paying. We want to ensure that whatever they are opening is competitive, that it can compete globally for exports."
The country's growing population and surging demand for electricity are among the primary reasons behind the solar program.
Riyadh wants to leave more oil for export, thus generating more government revenue, and at the same time diversifying the economy away from crude oil.
"We see it as complementing oil because renewables bring more than just a low-value fuel," Al-Shehri said. "It fits perfectly into our demand profile, which is high demand, almost 50 percent higher than you see in the evening from air conditioning."
According to the IEA, the country burns around 900,000 thousand barrels of oil per day just to run air conditioning and keep the lights on during peak demand in the summer months.
Saudi ministers are reportedly working on a second auction of power-purchase deals for renewable energy developers that would grant government-guaranteed contracts for up to 25 years.
The ministry offers land and grid connection to the projects, and developers are required only to build the power plants.
As part of the "Vision 2030" plan aimed to diversify the Saudi economy away from fossil fuels, the government is spurring local industry to build products for export. The program also includes creating banks, a tourism industry, and manufacturing from the proceeds of energy.
You can share this story on social media: