China to become global automaking powerhouse
Published time: 25 Apr, 2017 10:48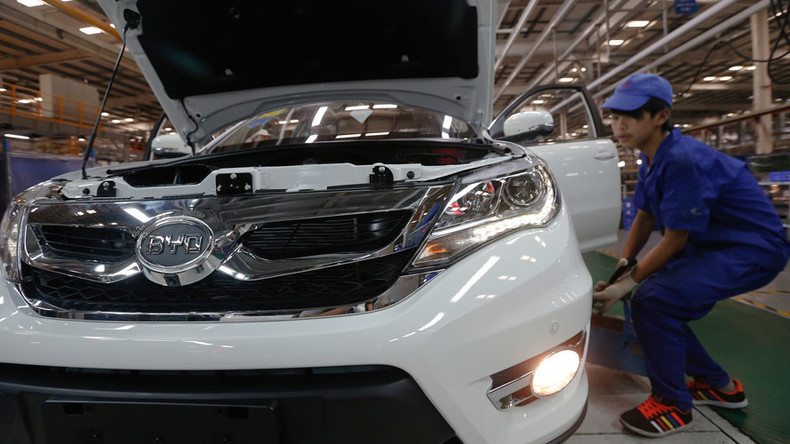 China is already the world's largest car producer, and by 2025 plans to increase the share of Chinese brands in the international auto market, the Xinhua news agency reported citing official sources.
On Tuesday, three Chinese government departments, including the Ministry of Industry and Information Technology, released an auto industry development plan to turn the country into a world leader within a decade.
The government plan sees annual production up to around 30 million vehicles by 2020 and 35 million by 2025.
Car sales in the country hit a record 28.03 million in 2016, up 13.7 percent year on year.
China aims to achieve a breakthrough in the major technologies, with the development of new energy vehicles (NEVs) and relax restrictions on foreign ownership of manufacturing.
In 2009, the Chinese government launched its NEV program to produce vehicles that are partially or fully powered by electricity, such as battery electric vehicles (BEVs) and plug-in hybrids (PHEVs).
The country's annual NEV production and sales are expected to hit two million by 2020. For two straight years, China has been the biggest market for NEVs with 507,000 sold last year, up 53 percent from 2015.
Regarding the new plan, restrictions on foreign ownership in the country's joint-venture carmakers will be relaxed "in an orderly manner." At the moment, Beijing caps foreign stakes in joint ventures in the domestic auto industry at 50 percent.
Last month, Chinese state-owned automaker SAIC Motor began talks with three Indian states to start manufacturing there. The carmaker reportedly plans to enter the Indian market with vehicles produced under the former UK brand MG Motor.