'Pink Star' diamond sells for record $71.2mn at Sotheby's auction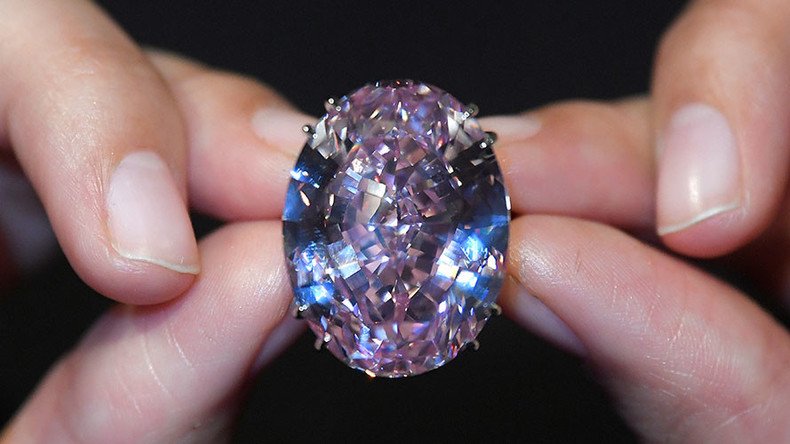 A rare 59.6 carat pink diamond described as "one of the world's great natural treasures" has become the most expensive jewel ever sold, going for more than $71 million at auction in Hong Kong.
Bidding for the gem, which was found by De Beers at a mine in Africa in 1999, began at $56 million.
According to the Sotheby's auction house, the precious stone, which is the size of a plum, was bought after just five minutes' bidding. It was acquired by local jewelry retailer Chow Tai Fook.
"We're very happy," Sotheby's Asia Chairwoman Patti Wong said as cited by Associated Press. "I know there was a lot of talk about the economy in China not being as positive as it was a few years ago," but the results from its jewelry auction Tuesday, which included nearly 200 other lots, were very strong, she added.
Sotheby's worldwide chairman for international jewelry David Bennet, who presided over the auction, called it a "historic sale."
The Pink Star's sale comes three years after it had apparently fetched $83 million at another Sotheby's auction in Geneva. That deal collapsed because buyer, diamond cutter Isaac Wolf failed to pay, and Sotheby's had to reclaim the stone.
READ MORE: Top 10 most expensive diamonds in the world
The oval-shaped diamond dethroned the "Oppenheimer Blue" diamond, which was sold for $58 million in May at Christie's.
The Pink Star is the largest flawless fancy vivid pink diamond ever graded by the Gemological Institute of America. The previous world auction record for a pink diamond was $46.2 million for the 24.78 carat "Graff Pink" in 2010.
You can share this story on social media: