EU, Israel agree to develop Eastern Mediterranean gas pipeline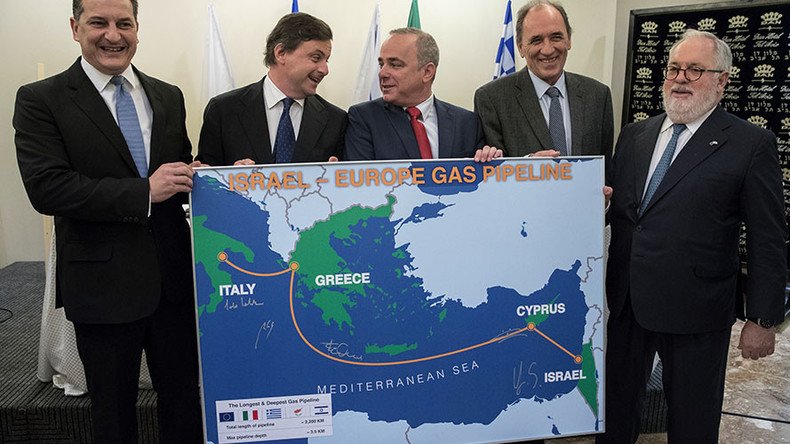 Three Mediterranean EU countries and Israel agreed on Monday to continue pursuing the development of a gas pipeline project that could link gas fields offshore Israel to Cyprus, Greece, and Italy, and potentially help the EU to diversify supplies away from Russia.
The energy ministers of Cyprus, Israel, Italy and Greece agreed to initiate discussions on an intergovernmental accordance on the EastMed Pipeline, Cypriot Minister of Energy, Commerce, Industry and Tourism, Georgios Lakkotrypis tweeted on Monday after meeting with his counterparts in Israel.
The pipeline could be completed in 2025, but the parties will try to speed up the project, Israeli Energy Minister Yuval Steinitz said after the meeting, as quoted by Reuters.
"This is going to be the longest and deepest subsea gas pipeline in the world. It's a very ambitious project,"The Jerusalem Post quoted Steinitz as saying.
European Commissioner for Climate Action and Energy, Miguel Arias Cañete, who attended the ministerial summit, said in a statement:
"In the next decades, gas flows from the eastern Mediterranean region will play a vital role in the energy security of the European Union. The Commission strongly supports the construction of the necessary energy infrastructure and developing a competitive and liquid gas market in the region."
IGI Poseidon, the company that has completed the feasibility study, sees a final investment decision on the project by 2020, chief executive Elio Ruggeri told Reuters.
According to Ruggeri, the pipeline would cost $5.3 billion (€5 billion) to reach the Greek gas system, and $6.4 billion (€6 billion) to reach the Italian system.
READ MORE: Russia quietly cutting oil output while looking at broader prospects – Energy Minister
IGI Poseidon - a 50/50 joint venture between Greece's DEPA and Italy's Edison SpA - said on Monday that it welcomed the support to the EastMed Pipeline Project given by Italian Energy Minister Carlo Calenda and Israeli Minister Steinitz and "confirms its endeavor to advance Project's development activities in accordance with the existing European framework for expediting Project of Common Interest."
This article was originally published on Oilprice.com
You can share this story on social media: