Heineken fights off Hungarian attack on its red star logo
Published time: 22 Mar, 2017 15:00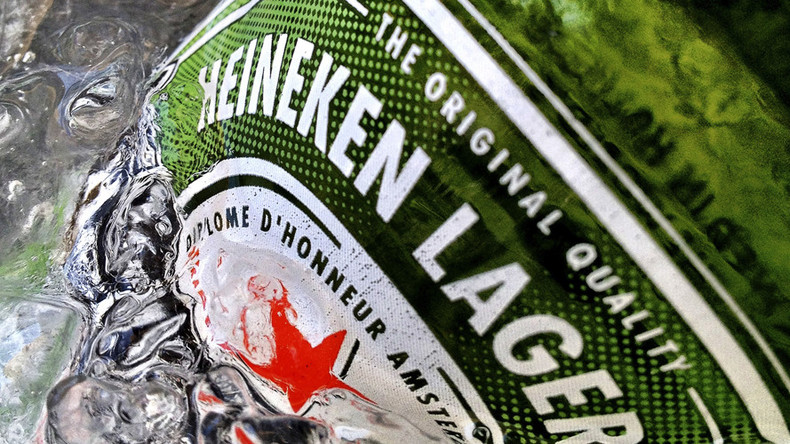 Dutch brewer Heineken has rejected accusations from Hungary that its trademark red star is a symbol of communism, as brewers have used the logo since the Middle Ages.
The Hungarian government wants to ban the commercial use of all "totalitarian symbols," including anything associated with the country's communist and Nazi past.
According to the brewer, the star represents beer's ingredients: water, barley, hops, yeast, and a fifth that comprises the "magic of brewing."
"Naturally, the red Heineken star has no political meaning whatsoever, and we use the same brand symbols across the world, in every market," the company said in a statement. "We will closely monitor this local matter and hope and trust that this matter will be resolved soon."
On Monday, the Hungarian parliament started discussing a bill which, from next year, would make it a criminal offense to use symbols such as the swastika, the arrow cross, the hammer and sickle and the red star for commercial purposes.
Budapest is pushing for fines up to $7 million and even jail time for anyone selling products featuring totalitarian symbols.
The government of Prime Minister Viktor Orban said it has a "moral obligation" to ban the commercial use of "symbols of tyranny."
Heineken has had a star logo on its beer for most of the years since it was first brewed in the second half of the 19th century, changing the color to red in the 1930s.
The red star was also a major symbol of Soviet communism and used to appear on the crest of communist-era Hungary.
Experts say that based on the law, Heineken beer with its current logo could be banned. Recently the company had a row with Hungarian authorities over the name of a beer produced by a small ethnic Hungarian-owned brewery in the Transylvania region of Romania. The Dutch company won a trademark infringement case.
"We believe we have to defend every Hungarian brand when someone wants to use its market dominance to squeeze out others," said Hungary's parliamentary leader Lajos Kosa. The bill banning totalitarian symbols and the Heineken case is the "confluence of two issues."
He added that the ruling Fidesz party is also trying to narrow the scope of the bill to ensure products including Converse shoes and San Pellegrino bottled water, which also feature the red star, aren't affected.