China sits on financial house of cards - OECD
Published time: 21 Mar, 2017 11:12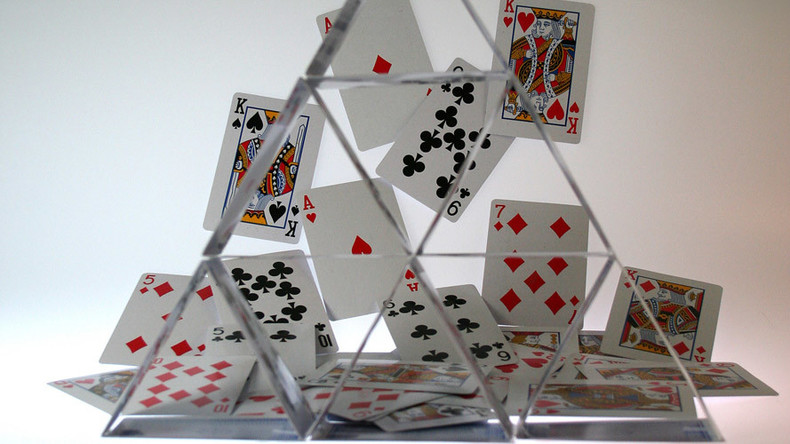 Financial risks are mounting in China despite government efforts to rebalance the economy away from low-value manufacturing, said the Organization for Economic Cooperation and Development (OECD).
According to the OECD annual report, Beijing should urgently address rising levels of corporate debt, excess production capacity and frothy prices in property and other asset markets that add to the risk of "disorderly default."
It forecast China's economic growth is likely to slow to 6.5 percent this year and cool further to 6.3 percent in 2018.
The Chinese economy grew 6.7 percent last year, its slowest pace in a quarter-century, and Beijing has set a goal of about 6.5 percent growth for 2017.
"After decades of breath-taking expansion, the focus should be on making growth more resilient, sustainable and inclusive, and addressing risks to stability," said OECD Secretary-General Angel Gurria.
The study estimated China's corporate debt at about 175 percent of GDP, one of the highest in emerging market economies. It climbed from under 100 percent of GDP at the end of 2008.
READ MORE: China service sector expansion drops to 4-mth lows
"Soaring property prices in the largest cities and leveraged investment in asset markets magnify vulnerability and the risk of disorderly defaults," said the report. "Excessive leverage and mounting debt in the corporate sector compound financial stability problems, even though a number of tax cuts are being implemented to reduce the burden on enterprises."
The world's second-largest economy needs more innovation, entrepreneurship, effective corporate governance and reform of its state-owned sector, according to the OECD.
"China's economy should now be driven less by physical investment and more by innovation, it should deleverage, and it should, above all, become greener," said Gurria.
China has identified innovation as a priority to bolster growth and registers 15,000 new companies a day, but the study showed there were too many unviable firms and the progress on scrapping zombie state-run companies was modest.
The government should provide more subsidies, tax cuts and enforcement protection for smaller, creative companies; according to the Chinese smartwatches' producer Candy Intelligent Technology.
"Right now, intellectual property protection in China is really bad. It's as if there's no law at all," Candy Intelligent's general manager Zheng Hanbo told the Wall Street Journal. "It's like guerrilla warfare."