Russia may begin new gas supplies to China in 2018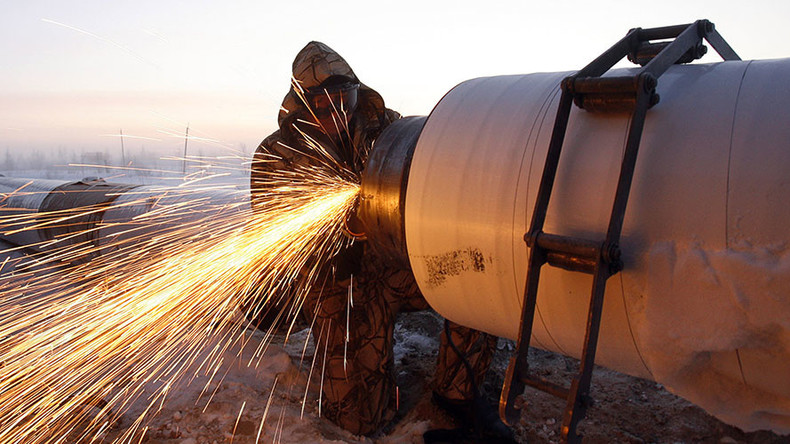 Deliveries of Russian natural gas to China via the so-called eastern route or the Power of Siberia pipeline could start next year, according to Gazprom's Deputy Chairman Alexander Medvedev.
"We expect that the date of supplies [launch] will be agreed with the Chinese side next year," Medvedev told TASS.
He added that they could agree to start deliveries if the pipeline system is ready for imports and exports.
Medvedev also said Gazprom is confident China will want gas supplied via the western route and is continuing negotiations with Beijing.
According to him, there is no doubt China will have a growing demand for gas, particularly due to the environmental factor in the coal-dependent country.
The Power of Siberia pipeline is one of the biggest Russia-China projects. The deal took more than a decade to negotiate.
In May 2014, Gazprom and China National Petroleum Corporation (CNPC) signed a $400 billion 30-year framework to deliver 38 billion cubic meters of Russian gas to China annually.
CNPC Vice President Xu Wenrong said in October the eastern route will become operational by 2020. Russia's ambassador to China, Andrey Denisov added the pipeline construction was on schedule.
According to Gazprom, 115 kilometers (71 miles) of the pipeline's 3,000 kilometers across Russian territory were constructed in 2015.
Russia will be one of the main providers of the natural gas increasingly needed by China. The two countries plan to build another pipeline - Power of Siberia-2 or the western route that will deliver another 30 billion cubic meters of Russian natural gas.
READ MORE: China scraps 85 coal plants in pivot to green energy
Beijing may increase imports of gas to 190-270 billion cubic meters per year as it aims to shift from coal to eco-friendly energy, said CNPC International Department head Li Yueqiang.
According to him, in 2015 China used 200 billion cubic meters of gas, of which a quarter was imported.
You can share this story on social media: